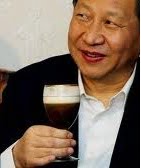 It is now some 10 days since China's next President, Xi Jinping, didn't show up at a photo-op with the visiting Danish Prime Minister. Officials denied that the meeting had been in the schedule at all; the Dane must have imagined it in his diary. Then they spread the word that the 59-year-old imbiber of Guinness had hurt his back while swimming and will be fine.
In the absence of a simple PR photo of him smiling and recovering well, elaborate rumours of assassination, defenestration and backstabbing have inevitably surfaced. Bell's palsy, which leaves the face distorted – that's a good one. Maybe he has been secretly parachuted onto the Diaoyu/Senkaku islands to retrieve the sacred territory for the motherland, along with Vladimir Putin's camera team. After all, the Chinese naval vessels sent to reassure the Mainland public have disappeared as well. Or he could be languishing in prison – he is, after all, China's Nelson Mandela.
There is an alternative explanation: Xi Jinping never existed. There is no record of any such person ever holding any public office in the People's Republic. The photographs you thought you saw him in didn't include him at all. You must have dreamt it. It was in fact a blank space after all, with just a faint smudge of Winston Smith's fingerprint on it. And his family's multibillion dollar luxury apartments here in Hong Kong? Not empty, as once thought, but occupied by people not called Xi, who insist they've been there all along.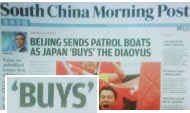 Unperson or not, the official truth will no doubt become clear in the pages of the South China Morning Post. The paper's overt patriotism has been especially wearisome recently, with full-page articles lavishing breathless praise upon senior officials who will be taking the reins of power in the forthcoming transition of government, and Xinhua-style quotes around the word 'buy' to dispute the Japanese government's right to purchase the Diaoyu Islands from their private owner – or should I say 'owner'? Today's back page predicts who will join the found-safe-and-sound Xi and sidekick Li Keqiang on the nine-or-maybe-seven-strong Politburo Standing Committee. Each one is helpfully colour-coded so we can satisfy our urgent need to know which of three China experts is forecasting which individual; they are David Shambaugh (George Washington U), Zheng Yongnian (Singapore National U) and Wang Xiangwei (editor, SCMP)…

Of course, we really should know who these top Chinese officials are, but most of us don't (which reminds me: Foreign Correspondents Club monthly quiz tonight). It's not just lack of National Education or laziness. I have no trouble recalling the names and faces of many leading government hopefuls in open societies. Sarah Palin, for example, never disappeared for 10 days. When a Ferrari crashes with two nude women in it in America or Britain, you usually know for sure whether the girls were from Tibet or Xinjiang, and you don't have to wait months before finding out which cabinet member is the young, dead, naked, male driver's father. And there's no maybe-nine-maybe-seven stuff: everyone agrees on how many people sit on the cabinet.
We are ignorant of who runs China because that's the way they want it. Similarly, we have an election system in Hong Kong no-one can understand because that's the way someone designed it. The SCMP today also reports calls for reform of the bizarre proportional representation system. An incredible 21 candidates won seats in the Legislative Council with less than 8% of the vote. (We could use quotes for the word 'won' here: to me, 8% means you lost.) The NeoDemocrats' Gary Fan got in with 6.2%.
The reason for changing from a simple first-past-the-post system was to limit the success of the Democratic Party. Hard to believe anyone thought it was necessary, but times change. The system now delivers extreme fringe candidates like the NeoDems into Legco. But it also screws the Civic Party quite nicely. In Hong Kong Island, one CP candidate (Christopher Chan) gets in with 70,000 votes, while New People's Party candidate Regina Ip gets in with 31,000 votes; the second person on the CP list (Tanya Chan) – who you would have thought could have 35,000 of Christopher's votes – doesn't get a seat. This looks like a voting system Beijing can live with.
Just in: Christine Loh is to be deputy-sub-vice-assistant-under-secretary, stoically reporting to some nonentity, at Environment. The air smells better already.