Beneath the turbulence of life in Hong Kong as Chief Executive CY Leung flagellates himself with the National Education whip, positive changes are afoot. We've had the City of Lifts initiative, which will install elevators and ramps to make it easier for the elderly and infirm to get around. Not exactly a manned lunar mission, but it's the sort of thing a city government is supposed to do, and it's more than CY's predecessor Donald Tsang ever gave a damn about. On which subject, we've had the dumping of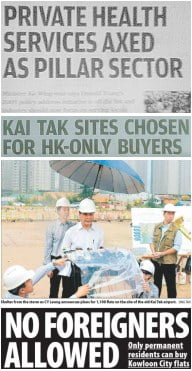 Sir Bow-Tie's obsession with making health care a 'pillar industry'. Hospitals will now be for Hong Kong people – a constituency the last administration saw as a nuisance.
The news this morning includes the government's plan to reserve certain residential sites for Hong Kong permanent residents. It is just a gesture that will make little or no difference to anything in practice. But if applied on a much bigger scale, this idea could in theory give birth to a new category of housing: cut-price homes for families who want a place to live in rather than an overvalued asset to trade. It probably won't come to that – the bubble real estate agents say we don't have will go pop first. But the very principle would have been alien to the last government.
It's a start. And these are relatively easy policies to unveil. Some others would be much harder; they would run up against vested interests or even provoke undue alarm and run into unexpected public opposition. Should our leaders stick to their guns and try to ram such initiatives through anyway?
Imagine a government announcement banning cars, vans and trucks from urban areas in daytime; imposing painfully high electronic pricing on all road use; rationing vehicle registrations; subsidizing clean new engines for all old trucks, buses and ferries; subsidizing replacement fleets of electric vehicles. Imagine the squeals from outraged drivers of black seven-seater SUVs who want to clog up the side streets. Imagine the protests – hunger strikes, even – of shop owners unable to take deliveries during the day. Imagine the tut-tutting of economists and bureaucrats nervous about dipping into the fiscal reserves. And imagine how clean the air and how spacious our downtown areas would be.
That would be worth bitter struggle, bloody-minded refusal to make concessions, dismissal of protesters as misguided, division, disharmony, even dips in the public opinion ratings if that's what it takes. In order to clean the air. But in order to introduce a silly hour-a-week Moral & National Education class in schools for the sake of appearances? What a waste.
The Standard's 'Mary Ma' column makes one of its occasional good (OK, obvious) points today when it says CY would be making things even worse if he chose this moment before Sunday's election to take the MNE monster and strangle it to death. The opposition would be so elated they would rush out to vote in even greater numbers on Sunday, while government loyalists would stay at home in despondent gloom.
So it's a question of grinding away. We don't know why we have to do it, but we do. The weekend is hereby declared open an hour early in order to 'enhance parents' understanding' of MNE complete with pictures of balloons and butterflies.
They've printed 1,500,000 copies of this thing. 'The first of a series'!