The new academic year begins, and just over one percent ('at least' six out of around 500) of Hong Kong's primary schools are launching the new Moral and National Education curriculum, now simply referred to by many teachers, parents and schoolkids as 'wash brain'. The ever-thorough Standard lists them. One seems to be run by an affiliate of the pro-Beijing teachers' group that produced the now-infamous teaching guide about the superiority of the Communist Party's 'China model'. Another's name includes an abbreviation of suspiciously United Front-style length. A third is the Fresh Fish Traders' institution that seems to get in the headlines quite a lot (or is just that the name sticks in the mind?).
A report from last night's protest at the Tamar government HQ is here, and a reminder that the world is watching is here. Even apologists seem uncomfortable with what's happening. The latest situation is that the hunger strikers are still doing their thing, and the bizarreness looks set to continue through to the Legislative Council election on Sunday. The administration of CY Leung, with Chief Secretary Carrie Lam bravely serving as representative on Earth, is undergoing a crisis of cluelessness.
Just to remind ourselves: what was National Education supposed to do in the first place? The truth is that it seems to have been a symbolic gesture put together to appease local and Mainland complaints about Hongkongers' apparent lack of patriotism, CCP-style. But the 'official unofficial' aim is to instill in young Hongkongers the sort of social and civic consciousness that leads them to share Mainland Chinese people's broad acceptance of and at least occasional pride in the achievements of the nation under the one-party state. Now look at this picture from today's South China Morning Post…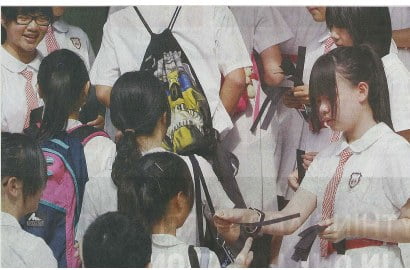 What we see is a well-groomed, roughly 12-year-old schoolgirl in a neat and tidy uniform. She probably has a big stuffed Hello Kitty on her bed at home, and when not eating curried squid balls or studying her Level 1 algebra, she plays Angry Birds on her iPhone. Except that's not what she's doing. With at least several classmates, she is handing out 'No to Wash Brain' tags for fellow students to attach next to the pink furry thing dangling from their backpacks.
National Education has radicalized 12-year-old girls: the exact opposite of what it was supposed to do. It has turned entire classrooms of kids into thrilled freedom-fighting anti-government activists. The most cunning CIA operatives, the most determined Taiwan splittists, the most imaginative of Hong Kong's pro-democrats couldn't have pulled this off. For producing such a subversive movement, National Education would surely be illegal under the Article 23 security laws, had they come into existence. The cadres in Beijing's Liaison Office in Western must be wondering who to shoot first.
To help them, I propose that the next Nobel Peace Prize be awarded jointly to Carrie Lam, the pro-Beijing National Education Services Centre and the porn website that shut down for the day to swell the crowds at Tamar.
Heck – Gandhi couldn't have done it.