'Mass-tourism from the Mainland probably rescued Hong Kong from certain doom after SARS in 2003. Now, with the purchasing power of China's middle class hitting a peak, Hong Kong needs to expand the pie to include poorer groups like Shenzhen's migrant workers.' That, more or less, is the Standard's line, via the 'Mary Ma' column, on the ill-timed announcement that an extra 4 million Shenzen-ites will be allowed to come and go as they please.
Until recently, the Hong Kong Tourism Board would – to put it daintily – climax without disrobing at the news. The HKTB has long had an almost autistic obsession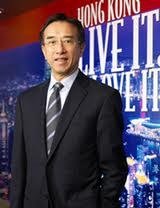 with increasing the number of visitors to the Big Lychee as an end in itself. But on this occasion, its titular boss, Liberal Party rich-kid James Tien, expresses doubts. The extra visitors might engage in smuggling, he says. Such smuggling would be in a northbound direction, thus mainly a concern for Mainland customs officials; the main threat to Hong Kong would be all the extra giant boxes and bags being dragged through our train stations. Still, the fact that Tien has come out against cramming extra people into our crowded city is noteworthy. The reason, of course, is that he is running for a Legislative Council seat.
My fabricated conspiracy theory about resentful Shenzhen officials hasn't chimed. Indeed, the Special Economic Zone doesn't seem to benefit at all from allowing more residents to shop across the border (they just have more Yakult and God knows what else being smuggled back in). It would be hilarious to think that someone thought the '4 million influx' idea would be popular and give pro-Beijing parties a boost in the election. One distinct possibility is that years ago Hong Kong officials actually asked for the individual visit scheme to be extended to Shenzhen's migrant workers. It does ring some bells – maybe back in Tung Chee-hwa's time? Someone for our press to name and shame.
The word on the street is that this, along with the proposal to set up a 'Locustland' zone in the New Territories, is part of something bigger. One thing that clearly alarms Hongkongers is that foreign visitors in town might think that Mainlanders who squat everywhere and let their kids pee on the sidewalk are locals. And they do not see this threat to their city's reputation as an accident: they think it is part of Beijing's grand design to absorb and neutralize Hong Kong. Make the Big Lychee look like a Mainland city, make foreigners think it's a Mainland city, and before long – it is a Mainland city. Other elements of the strategy: the sort-of imposition of National Education, the astronaut-adoration rituals, the spread of simplified characters, overweening security measures for senior Beijing officials, and so on.
Some planned Mainlandization is obviously underway and is unavoidable as part of the constitutional transformation from British colony to Special Administrative Region of the PRC. Put it in the context of China's development – with a new middle class yearning to travel – and it is easy to see why Mainland cultural influence has extended beyond just symbols (look at how many Hongkongers have worked on their Mandarin without having a gun pointed at them). But to what extent is this process non-organic: deliberate, designed, scheduled, and actively implemented and enforced? And what do the forces engaged in remodeling a civic psyche think they're trying to achieve?
For an answer, we can turn to the Hudson Institute, one of those L Street think-tanks that churn out worthy policy documents pushing rugged, but not rabid, right-of-centre positions. Avid fans of this sort of thing might like to start with this review of a book on Taiwan, and how Beijing has successfully convinced the world, not least through manipulation of language, that the place only half-exists or half-deserves to exist.
The same author compares the apparently all-powerful Mainland with its peripheral 'mini-China' offshoots – notably Taiwan, but also Hong Kong, Singapore and Chinatowns. Where have China's energy, knowhow, creativity and resources come from? Which of these two parallel Chinas is the more advanced, and which the more backward? Which looks more impressive to the subjects of the Chinese Communist Party: the mainland of the People's Republic, or those renegade and ex-colonial entities and diaspora? He says:
The Communist Party of China seems to believe that at least one way to deal with … widespread deterioration in civic morale is to deprive Chinese on the mainland of the sight and the sound of an alternative "Chinese" way of doing things. This is what the PRC's desired "liberation" of Taiwan is all about.
…and so, if we embrace this analysis, is the gradual imposed Mainlandization of Hong Kong. Hongkongers must accept at least nominal conversion to Mainland-hood because their current state of cheerful rebelliousness (getting weepy at the sight of the wrong flag, for heaven's sake) could be interpreted by true Mainlanders as proof that the CCP is a false ruler and should give up power. Seen from Beijing, Hong Kong's separate identity threatens one-party rule.
Which all sounds really heavy. On a less paranoid note, we should look not only at Beijing's apparent determination to eliminate evidence of a successful non-CCP 'alternative China', but at the quality and effectiveness of its attempts to do so. If the best they can do is disgust Hongkongers with the sight of urinating toddlers in Causeway Bay, it's going to be an uphill struggle.