Blink and you'd have missed it: a precisely scripted and performed piece of theatre leaves the world none the wiser as to who did what, where, when or why. Our local press report the trial of Gu Kailai, wife of disgraced ex-Chongqing party boss Bo Xilai, as if the pouring-poison-into-mouth account is factual, and they might
as well; there is nothing else to go with.
All we can really say is that this is largely a human-interest story to divert attention from the real issues. How extensive was Bo's reign of terror over Chongqing's business community? How many local businessmen died, were jailed or tortured, or fled? How many billions in assets did Bo and his henchmen appropriate for the municipality, for their friends and families, and for themselves? How typical is this behaviour among Politburo-level officials and top-ranking provincial-level leaderships? What equivalent crime and corruption goes on among lower levels of government? How the hell can a country be run like this? Wouldn't it all make a really cool Moral and National Education case-study for Hong Kong schools?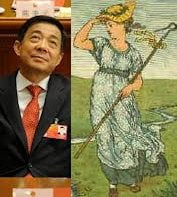 An aside… Anyone brought up on Little Bo Peep instinctively pronounces the name 'boe' rather than 'baw'. Less forgivable is the pronunciation of 'Beijing' with a soft, mushy, almost French 'xing' or 'zhing' (in the non-pinyin sense) second syllable. As they sometimes do on RTHK's English Radio 3 service's news show in the morning ('President When' is another of their lapses).
Throughout the English-speaking world, newscasters have come to pronounce 'Beijing' in a way that is not only wrong in Mandarin but in English itself. You don't sing 'xinglebells/zhinglebells' at Christmas, so why put the consonant into the name of China's capital? The Atlantic has been pondering this question for ages. One theory is that, in the speakers' minds, 'all foreign languages are French'. A more serious explanation is hyperforeignism, in which people try too hard to make a foreign word sound suitably alien; a related phenomenon is the sort of hypercorrectness that leads Anglophones with a bit of high-school French to pronounce a rather nasty shade of blue-green 'turquWAAZ' rather than the 'turqWOIZE' the well-bred among us were taught. A third explanation is that these RTHK newsreaders are ignorant and in need of remedial national education. I would hate to have to start naming and shaming them.
The other big story today is the demise of businessman and broadcaster Albert 'Taipan' Cheng's Digital Broadcasting. In his over-frequent South China Morning Post column, he claims that his investors have been scared off by interference from Beijing's local officials, who dislike the station's anti-government stance. This sounds perfectly believable, but so does the argument that broadcast media today is a money-loser. The Standard's 'Mary Ma' makes a case for internal feuding.
If it really is politics that kills off DBC, it would be because politics started it. We may recall that during the height of Donald Tsang's disastrous spell as Chief Executive, radical activists demanded the right to acquire a broadcasting licence so they could launch a legal on-air radio station. This led to pointed questions about why Hong Kong had a (half Li Ka-shing-owned) commercial radio duopoly. And voila – something called DBC suddenly got the go-ahead.
The founders were a group of friends, shoe-shiners and hangers-on of Sir Bow-Tie himself. Cheng is an old buddy; Wong Cho-bau was later to offer Donald that luxury apartment in Shenzhen; banker David Li had been Donald's self-appointed 'campaign manager'; Arthur was David's brother; Allan Wong was a businessman on the Executive Council; Ronald Arculli was an all-purpose lackey who supported anything Donald asked him to. They might as well have called it Radio Donald.
Or Tang Dynasty Radio, because of course the thing would start operations around the time the new administration – then to be under Henry – took over. It was as if the bureaucrat-tycoon nexus was to have its own propaganda machine. Round-the-clock coverage of Chamber of Commerce bore Anthony Wu's views on the aging population and why we need a 12-lane bridge to Hainan Island.
Yet it was not to be. The lesson is worth endlessly repeating: those who live by the shoe-shine die by the shoe-shine.
I declare the weekend open with Headline of the Day: Paediatrician accused of waterboarding daughter … "known for his research into near-death experiences of children…"  They do say father-daughter relationships can be complex.
(Anyone with an interest in the art of documentary film and/or intergenerational child abuse with 75 minutes to spare should see the little-known Just, Melvin – Just Evil, directed by a victim who manages to use ironic humour to introduce his thoroughly messed up but hilarious family, culminating in the main perpetrator's funeral, at which a stunned pastor pleads with mourners to say something nice about the deceased – here.)