So there I was at 10 this morning, sitting at home in my pajamas, sipping lapsang souchong, reading the newspapers online, and thinking how nice today would be with the Number 8 typhoon signal up – and thus offices closed – until, say 3pm, when it is sadly too late for anyone to go into work. Vicious Vicente. And then some idiot at the Observatory ruins everything and lowers the signal.
I had in fact ventured out earlier to inspect the neighbourhood for damage after last night's tempest. The Plaza in Discovery Bay was looking like this…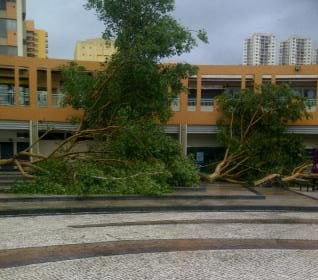 …so I thought we might have a few overturned buses or collapsed advertising hoardings in Central. But there was nothing, apart from the usual bits and pieces you would expect to be strewn around in the first Number 10 signal since 1999, including 100-mile-an-hour winds at Ngong Ping, home of the famous Lantau Death Ride Cable Car. Not even a comatose inebriate swept uphill from Lan Kwai Fong by an exceptional gust.
One thing I did notice, with no human or vehicular traffic in sight, was how many premises in Soho are empty. The shops are presumably being hoarded by owners waiting for prices to rise or landlords refusing to take a penny less than their dream price. This double-fronted (connected at the back) place on Peel Street…
…has been empty since the no-doubt trendy and much-missed Boca Tapas Bar closed at least one, maybe two, years ago. That must be one or two million in rent down the drain.
Just down in Staunton Street, I found a whole block – number 20-26 – vacant, full of deserted apartments with the windows open…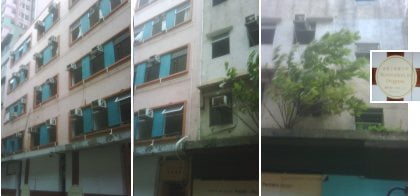 The hoarding along the ground level says the place is under renovation by Sino Land.
This is the place Sino wanted to turn into a 24-storey office tower with five levels of restaurants and a pledge to 'preserve the unique cultural and historical character of the area'. Local activists fought against the plan, and Sino then said it wanted to build a boutique hotel instead. (The sidewalks here are barely 2ft 6 across and the street is clogged with trucks half the time.)
I am the only remaining resident who can remember the area's original 'cultural and historical character', which was wiped out of existence some 15-20 years ago when the newly built Mid-Levels Escalator pulled in all the glitzy fake restaurants and other tat. Far from being unique, it was pretty much the same as you still find today in remaining low-rise, urban-area blue-collar neighbourhoods, like bits of Shamshuipo. All my neighbours from that time were ethnically cleansed via a clampdown on illegal structures and an influx of yuppies.
Now, thwarted by the newcomers' aesthetic values and town planners, it seems Sino must simply renovate their property, apparently bought some 10 years ago for HK$160 million. They could, if they knock apartments together, make some serious luxury flats – say, two 1,200 sq ft units per floor, which would probably fetch HK$15-20 million (who knows?) each. No swimming pool, so buyers would actually get the space. And then there's the ground floor – perfect for a couple of phony upscale themed dining concepts. All in keeping with the unique cultural and historic character.