After one 'Hong Kong-based activist Tom Grundy' tried to make a citizen's arrest for war crimes of former UK Prime Minister Tony Blair here last week, I thought the award for Self-Righteous Pretentious Bore of the Year had a clear winner. How cosmic (mildly, at least) would that be – this much-valued prize going to someone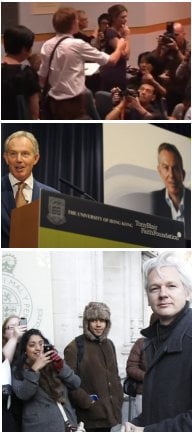 who heckled a previous multiple awardee, founder of his very own Faith Foundation?
But now Julian Assange, the peroxide-blond pin-up super-stud founder of Wikileaks, has taken refuge in the Ecuadorean embassy in London, asking for political asylum like a blind Chinese lawyer, but more groovy. Named after the equator (a local landmark). Capital: Quito. Bananas (probably). And that's about all we know about the place. It seems that although its president has all the right, trendy, anti-American, Gringo-baiting credentials, the small Latin American country is not renowned for its press freedom.
What makes me think 'Hong Kong-based activist Tom Grundy' teaches English in one of the Big Lychee's esteemed educational establishments? Or could he be 'Long Hair' Leung Kwok-hung's gwailo running dog? It's not just tycoons who have them! I am reliably informed that a professional full-time Trotskyist from the UK is attached to the legislator's band of radicals. Could be him. And doesn't the name Tom Grundy have an earthy, proletarian ring to it? You can imagine folk songs about such a man joining Wat Tyler's peasants' revolt or fighting evil Victorian mill owners.
On balance, Assange has a bit of an uphill struggle in the contest to win the Award. He occasionally shows a very slight glimmer of a sense of humour. You need an electron microscope to detect it, but the merest hint disappoints the judges terribly. And then there is the indisputable fact that he knows pleasures, specifically of the flesh with Swedish women; enjoyment of anything loses points in this contest. He will certainly lose them for actual persecution by authorities – even Scandinavian ones (and certainly for something that could sort of, approximately, more or less happen to any of us with the gift of catching ladies' eyes).
This is in stark contrast to Tom Grundy, to whom the judges feel bound to award extra points out of sympathy. The poor guy expected that the local oppressive capitalist powers would respect his rights as a crusading martyr and drag off him off to jail to rip his fingernails off, or at least give him a squirt of pepper spray. Instead, the  henchmen of the Hong Kong Police ignored him. Totally. No tap on the shoulder. No ID check. No word of warning. Not even some mumbling about not getting involved in arguments between Westerners. Like he didn't even exist. He just went home to his teddy bear and cocoa (or whatever the most righteous people on the planet do after work).
There are still six months to go, but it would be the first time the Award came to Hong Kong, so fingers crossed.
(Not my job to push commercial products, but with the hot weather coming I strongly recommend that everyone follows Tony Blair's fashion advice on casual days off, and wears a pair of his stylish Faith Shorts.)