You wouldn't have thought that an academic paper attributed to one Professor the Honourable Joseph Yam, GBM, GBS, CBE, JP would attract much interest, but the former HK Monetary Authority boss has created a stir with his proposal to scrap Hong Kong's currency peg. The flap is not so much over the idea, which isn't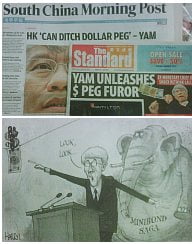 new, but over his decision to disown what is virtually his lifetime's work – and to do it just weeks before CY Leung, whom he opposed, takes over as the new Chief Executive.
South China Morning Post cartoonist Harry wittily suggests that Yam is trying to divert attention from his role in the Lehman minibonds saga. Or maybe it's a cry for attention – maybe the retired bureaucrat wants some sinecure jet-setting around as a Dominique Strauss-Kahn with Chinese characteristics on the flamboyant international financial geniuses circuit.
Whatever his reasons, it's not because he thinks we should scrap the peg. There is only one intellectually coherent alternative to the link to the US Dollar: a free float – and that's not what Yam proposes. Unfortunately, it comes with a nightmarish snag no-one wants to mention. So we are stuck with the fixed exchange rate, as Yam surely realizes.
We are told that the main advantage to the peg is that we know the exchange rate is always HK$7.8 to US$1, which makes life and international trade and currency transfers nice and predictable. But this is hardly worth what we masochistically have to put up with in return: US interest rates, which are often too low or too high for our own economic circumstances, so we end up with inflation or deflation – and particularly property bubbles and crashes. The real, supreme benefit of the peg is that it is simply not one of the other possible systems. Which are…
Using, or pegging to, the Chinese Yuan – which is absurd, but you have to mention it out of political correctness, and you then have to mumble something about how the time isn't right because the RMB isn't convertible. The fact is that pegging to a unit that is ruthlessly manipulated for its own purposes by a communist dictatorship makes far less sense than pegging to the freely floating currency of the world's strongest and most flexible and innovative, if currently bankrupt, economy. But you can't put it that way. (Setting your freely traded currency up as a proxy for an unconvertible one would be stupid as well, and Beijing would probably forbid it anyway.)
Pegging to a basket of currencies, as proposed by Yam as of yesterday and many others beforehand. There are all sorts of variants that would allow us to follow an average of other economies' monetary conditions rather than just those dictated by the Fed. This implies a wider trading range (so we get all those tedious ups and downs from 7.5 to 8.1 to 7.6 day after day) and possibly less inappropriate interest rates (thus a less hysterical property market). In theory, it sounds like having your cake and eating it, and if CY Leung ditches the peg this is what he will go for. In practice, you're looking at pegging to a bit of Swiss Franc, a bit of Sterling, a bit of Yen and Aussie and Canadian dollars – but mostly the same debased US Dollar we use today, and its even more horrifying counterpart, the euro. The outcome could be the worst of both worlds. We'd still be stuck with other countries' monetary policies. Even worse: our local officials could dabble by tweaking the basket's exact composition. Which leads us to the impossible ideal.
A freely floating currency. The official reason this is a no-no is that we are too small and vulnerable to have our own unit. It could bounce around all over the place (imagine what it would do during a SARS outbreak) and we would need to keep reserves to defend it. There is something in this; Hong Kong adopted the peg because its people lost confidence in their own, floating, currency during handover jitters back in the early 1980s. Looking on the bright side, a free float would have a libertarian ideological integrity to be proud of. It would also put an end to the demented yo-yoing of local property prices. That's because we could adjust interest rates to suit our own economic conditions, which sounds good until we ask ourselves: who does the adjusting? Could it be the sort of idiots who generally run Hong Kong because the paranoid Communist Party in Beijing doesn't trust anyone else here? Yes it could. The idea of a CH Tung or a Donald Tsang or a CY Leung tweaking the monetary policy dial in a blind panic every 30 minutes doesn't bear thinking about. But of course no-one mentions this.
So the masochistic 7.8 it is - logically, anyway, in the absence of top-quality independent monetary policy-making skills, which are in pretty short supply worldwide right now, let alone in Central. That said, if anyone is going to scrap the peg, it is CY; he must have noticed how much Singapore's micro-managers enjoy playing with their own secret basket of currencies.
Could it be that Yam is anticipating this, and wants to pre-empt the move as elder statesman who supported CY's rival Henry Tang? He could say 'I told you so' if it goes wrong (he makes a big fuss in his paper about the possibility of Hong Kong lapsing into big government and budget deficits, and [in para 89] even mentions the CY-associated word 'populism'). He could claim some credit, after years of defending the peg, if it works.