It's not often someone flips out around here, so it was refreshing to see some comments 'straight from the heart' here and then here. No mention, though, of my original point, that Cathay Pacific union activists who claim or hint that flight safety is at risk because of mundane – if unpopular – changes in working practices or conditions of service are scoundrels. Most people know that regulatory authorities around the world would ground the airline if this were true. Spokesmen claiming, in effect, that management decisions might lead passengers to die sound desperate and weaken their argument.
Airlines are prone to labour relations troubles. Part of the problem is that it is a perennially loss-making industry, though CX is unusual in that it makes decent profits most of the time, thanks to Hong Kong government policies that limit competition. Even so, global recession, oil prices and Hong Kong's high cost base mean that CX management struggle to deliver the returns the owners expect.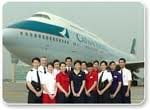 It is a highly cyclical industry. On several occasions over the decades, demand has exceeded supply and CX has splashed out on new aircraft and staff in order to grab its share of Asia's fast-growing market. But when the downturn comes, the company is stuck with excess capacity, high-paid manpower and a major price-competitiveness problem alongside most other Asian airlines. The upshot is that successive generations of staff have been hired on decreasingly generous conditions. Longer-serving crew, hired on relatively fat packages over 20 years ago, have been pressured into helping the company economize in other ways, such as measures to reduce expatriate housing costs.
In theory, everyone at CX should be reasonably happy; how many airlines in the world have a profit-sharing system? But a number of pilots, mostly of fairly long service, are virtually consumed with hatred for their employer. They tend to be clannish, geographically – and some would say culturally – isolated, not too hot on business and financial affairs, and have rest days to fill. After flying aircraft, fighting the company seems to be the centre of their lives. (Moving to another carrier isn't an option, as they would lose seniority.) Indeed, management suspected around 10 years ago that some of these ultra-disgruntled crew were battling the company from the cockpit, deliberately causing commercial losses by, for example, delaying flights. They were fired, leading to a messy court case and an even more entrenched warfare mentality on both sides. And that hyper-sensitivity.
A rule of thumb in all companies is that industrial relations problems are by definition the fault of management, whose job is to make sure the problems don't arise in the first case. Cathay Pacific is run by a cadre of managers technically seconded from Swire, who thus should bear ultimate responsibility. Traditionally these guys have often had curiously similar backgrounds: obscure British boarding schools, often with a spell in the Army. The Swires' policy has been to recruit more than is needed and then let them fight or grovel their way up the management ladder. One, I was once seriously told, had the psychological profile of a wife-beater. It was he who was the big softy who urged that the 100 or so pilots originally due to be fired 10 years back be halved in number. Which makes you wonder what the rest are like.