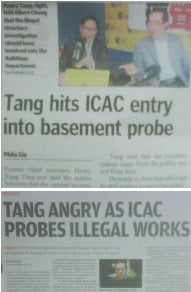 Who is this guy in all the newspapers this morning? The morose, equine-featured face looks vaguely familiar. He must have been famous once, but I just can't quite put a name to him.
He has been on the radio to talk about having an illegal structure at his home. That means he is not one of the zombie-herd of Hong Kong residents who live in identical boxes in mass-produced high-rises. Maybe he has an illicitly converted loft in a disused warehouse authorized for commercial use only, or an old walk-up with a wooden shack, full of character, proudly jutting out of the roof. Whatever it is, he is one of us: free-spirited, independent-minded, anti-government, and liberated – liberated from the tyranny of the planners and their despotic regulations designed to force productive, peace-loving families into inhumanely small living space.
He is making the wild assertion that the Independent Commission Against Corruption are investigating his property's original, unique and charming talking-point feature. Could he be a bit… strange? Maybe he's one of those people who thinks extraterrestrial life-forms are in contact with him, is into crystal healing for pets, and will be at next Monday's New Moon Ceremony for Manifestation. But he doesn't look like that type.
Why would the ICAC be involved? Illegal structures are the jurisdiction of the Buildings Department – as all of us who have one know, having thrown countless dozens of their logo-emblazoned, impertinent letters in the bin over the years. When you see the jackbooted thugs coming up the hill you tip a table across the threshold, and point a shotgun in their general direction. Yes – you shout – I am guilty of enjoying a 200-square-foot kitchen and a 180-square-foot bathroom, when I am supposed to have the same cramped 1-yard-across hovels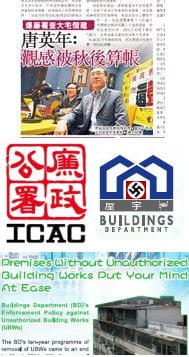 everyone else has. Come and get me. And of course they scuttle away. But the ICAC are different.
The ICAC would only be interested in an illegal structure case if there were some suspicion of graft. Let's say someone slipped an architect or builder some cash for agreeing to submit fake plans to the government building-permit department, or paid a lowly civil servant to overlook a minor detail during some inspection. But being decent, law-abiding folk, those of us with unauthorized building works wouldn't dream of such a thing.
The depressed-looking, almost-recognizable fellow on the radio says it's all a plot to give the impression that someone is taking revenge upon him. (If I read it correctly, he alleges that the public believes that the ICAC's presence is someone's form of retribution against him, but that he thinks the public is wrong. Which suggests the ICAC do indeed have a valid reason to be kicking his door down. Perhaps he is a bit confused after all.)
We UBW-dwellers stick together. We are a silent libertarian uprising in defence of livable homes in authentic neighbourhoods, bound together by knowing looks, secret handshakes and – perhaps the clincher – obscenely good connections. The higher up in society you go (I don't mean 'new money', Mainlanders, etc) the more illegal structures you find. It's uncanny. So I could really help this poor guy. If only I could remember his name.