All is silent at the Independent Commission Against Corruption. But some sleuth-like Reuters reporter unearths an anonymous source putting a sum to the alleged corrupt dealings between former Chief Secretary Rafael Hui and the Kwok brothers' Sun Hung Kai Properties: US$2.5 million.
To many in Hong Kong, where the median household monthly income is HK$18,000, it is almost an unimaginable sum. The key word is 'almost'. It is a tidy amount of cash – just below HK$20 million – but it is not beyond the wildest middle-class dreams. Thanks to quantitative easing and our little and unmentionable local property bubble, it'll buy you a couple of pretty average apartments in the Mid-Levels. Invest it in a security yielding 3% a year, and you could retire on HK$50,000 a month, which is comfortable but hardly regal.
As CS and subsequently first boss of the HK Mortgage Corporation, Rafael Hui would have been on salaries in the range of maybe HK$2-3 million a year, with generous pension and a myriad other perks. No need to save for retirement or pay serious rent: public-sector perks allow the lucky recipients to spend or bank a lot of what they earn. The alleged bribes would have represented substantially less wealth than a bureaucrat like Hui would have been able to accumulate by this late stage of his working life. It is an amount we can all relate to; enough to make the less well-off among us seethe with anger, and the better-off think 'how pathetic'.
Meanwhile, in New Zealand, Chile and Brazil, Chief Executive Donald Tsang has been staying in surprisingly expensive hotel accommodation, costing taxpayers (either in Hong Kong or the host countries) HK$10,000, HK$40,000 and even HK$50,000 a night. Following the scandal over private jets, luxury yachts and lavish Shenzhen apartments, we all knew Sir Bow-Tie liked his creature comforts. As with his former number-two, it is all looking rather pitiful. The tycoons whose boats and planes he enjoyed are of the grubbier kind, and 'exclusive' Shenzhen apartments cost around the same as, say, a couple of units in the Mid-Levels – they're for people who could never afford one on this side of the border. If Rafael turns out to be a crook, he can console himself with the thought that it was poor Donald who went 'bling'. Even more unforgivable.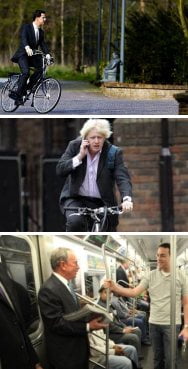 It is not every day we turn to former Security Secretary legislator Regina Ip for wisdom and insight, but the lady has pondered this state of affairs and concluded that comfortably-off bureaucrats' proximity to mega-wealthy tycoons has turned their heads. By contrast, just two days ago we saw the Prime Minister of the Netherlands going to work (well, quitting) by bicycle; as for mayors of cities with 7 million people, we have London's Boris Johnson frequently on two wheels, and New York's Michael Bloomberg at least occasionally taking the subway.
If forthcoming CE CY Leung wanted to win a few more brownie points after banishing the plague of Mainland locust-mothers from our maternity hospitals, a healthy dose of official asceticism would be a vivid (and it goes without saying cheap) way to do it. Issuing an order that all ministers use the MTR and taxis when venturing out of Government Palace and stay in standard hotel rooms on overseas missions would do wonders for his image. And, obviously, it would make his predecessors, our outgoing self-styled elite, look all the more repulsive and loathsome to our eyes, not to mention those of generations and historians to come. Which is, in a warped sort of way, what politics is all about.