Sweetness and light burst forth as the Legislative Council votes for peace, love and understanding.
The lawmakers could have passed a motion of no confidence in Chief Executive Donald Tsang, but didn't. Sir Bow-Tie's palling around with grubby second-tier tycoons and their luxury yachts and jets shocked the public and damaged Hong Kong's reputation. But no favours seem to have been granted; it was harmless Gatsbyesque fun for an easily impressed little bureaucrat. He would have gone down in history for giving civil servants Saturday mornings off – now he will be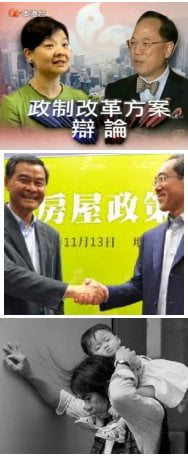 remembered for sleaze at its most embarrassingly pathetic. It is punishment enough. (I hear that he believes his moment of defining greatness was the constitutional reform package of 2010. This one. Remember it now?)
Our legislature could have demanded some sort of puffed-up inquiry to discover whether Chief Executive-elect CY Leung called for the use of tear gas to convince protestors of the advantages of the Article 23 Security Law in 2003, but again it didn't. The allegation was made by disgraced ex-lots of things Henry Tang, which isn't a great recommendation. The alleged comments were uttered in an Executive Council meeting and thus technically confidential and probably not even recorded. It does sound like the sort of thing the stereotype authoritarian Transylvanian wolf-man would say – but maybe that's what we're supposed to think. Most of us have more important things to do, and CY has no shortage of ways to redeem himself once he actually takes office.
And Legco members could have suspended their own colleague 'Long Hair' Leung Kwok-hung for getting a two-month jail sentence, but, yet again, they didn't. He didn't shoplift, defraud or build an illegal basement. He was opposing not only a ridiculous government's ridiculous measure but the way officials were going about it – such as packing a supposed consultation exercise with fake supporters to keep opponents out. Plus, it's Long Hair: a national treasure, with far and away the highest IQ in the legislature, and who may not even be especially averse to a bit of martyrdom for his many causes.
In practice, of course, these three examples of harmony were bitter struggles in which both pro-establishment and pro-democracy camps failed to get their way, thanks to Legco voting rules designed to favour the former. But all three outcomes spare us some tiresome grandstanding and serious distractions from more pressing issues.
Like this: the cost of a planned 12-km road has gone up 50% to… HK$25 billion. That's over HK$2 billion a kilometer, or – if my calculator is correct – say HK$2 million a yard. Or over HK$50,000 an inch. I'm not sure what materials they are going to use, but I think I have a solution to the cost overrun: make the road out of diamond-encrusted gold instead.
This is the sort of thing legislators should be looking at. One person who would, but probably won't be able to, is Mr Paul Zimmerman, a District Council member in Southern Hong Kong Island. In order to qualify to run for one of the five new functional constituency Legco seats representing district councils – to be directly elected at large by all voters – he needs to be a Chinese citizen (he is currently Dutch). He submitted an application some time ago, but the Immigration
Department say it will take them until after the Legco elections in September to process it. "Because of the long queue." (Ex-civil servant Mike Rowse's application took six weeks.)
Article 67 of the Basic Law allows up to 20% of Legco seats to be occupied by foreign nationals and Chinese with overseas residence. It is left to local legislation to decide how to implement the 20% ceiling. One way would be to let anyone run in elections and find a formula to eject some in the event that foreigners/etc exceeded 20% of those elected. Instead, 12 specific Functional Constituencies are classed as open to foreigners/etc. These include law and banking (both represented at some stage by UK passport-holding Hong Kong Chinese), accounting, tourism, engineering, insurance and others. The new district council members' seats are not included.
There is a school of thought that the current system of restricting foreigners to certain FC seats conflicts with Basic Law Article 25, which guarantees equal treatment for all residents. Thus a foreign passport-holding Hong Kong resident could go to the courts and demand the right to run in a geographical constituency. There is also a school of thought that being in Legco is verging on pointless at the best of times, and you are better off working outside its hallowed chamber.
The weekend is colourfully declared open with something for all those right-thinking people who find that Thai water-throwing festival tiresome…
 …and proof you can photograph anything if a cute girl is in the picture.