Chief Executive-elect Leung Chun-ying hits the ground running with a nice easy bit of populism: a zero quota in private hospitals for deliveries by pregnant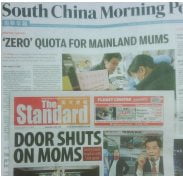 Mainland women who are not married to a local resident. He is also hinting that such mothers who still find ways of giving birth here – typically by turning up at a public-sector emergency facility at the last minute – will still not get their kid a Hong Kong ID card.
The contrast with the style and substance of the current administration is noticeable. CE Donald Tsang's officials would balk at such a radical move on the grounds that there is 'no consensus'. They would tremble in fear of vested interests coming up with the inevitable whining – already audible – about private hospitals having to close. Not least, they would be incapable of conceiving such a measure because it contradicts one of their most cherished tiresome non-ideas, that health care services are one of the Big Lychee's key future industries.
This will be worth a few percentage points in CY's unimpressive public approval ratings. The warning that women who sneak in to deliver may still not get their offspring residency rights may be hard to enforce in practice, but will no doubt be reported widely on the other side of the border, where smuggling mothers-to-be has been a big business. The private hospitals' complaints can be rejected: we have a serious shortage of medical staff and facilities, and, like property developers abusing the investment migrant scheme, they have made big money handing out free ID cards – and future potential taxpayers' liabilities – with every transaction.
A bigger test of his resolve and commitment to principle will be the issue of unauthorized building works in the New Territories. Many indigenous villagers north of Boundary Street have illegal extra floors on their houses. Their mafia-like representative group, the Heung Yee Kuk, sees its constituents as above the law, as part of the trade-off under which the Qing Dynasty leased the region to the British for 99 years starting 1898. (Yes, I know it's the 21st Century now.) After switching their bloc vote to Leung in the quasi-election last month, they now expect a cozy deal to let them keep their illegal structures.
For the next few months, this will be the outgoing administration's problem. But, of course, Donald's people will not be bold enough to resolve the mess before CY takes over. At some point, barring a neat judicial solution, the new CE will have to choose one of three approaches: letting New Territories residents keep their illegal structures but continuing to go after such offenders in the urban areas; imposing the rule of law equally in both regions and forcing NT folk to remove illicit extra floors; or being equally more flexible about non-dangerous illegal structures in both regions.
The Heung Yee Kuk wants and expects the first option, on the grounds that they are special. This would enrage the rest of the population, already angry at the aboriginal inhabitants' other privileges. The second means at least as much trouble, given the volatile and uppity, not to mention lawless, nature of some villagers. The third diminishes rule of law, though as a property expert, CY could claim that past governments' demented housing policies were at fault, being designed in effect to force people to live in under-sized homes. Given the proliferation of unauthorized construction, the issue is partly symbolic – but nonetheless important. What would his fellow solver of baby-related problems King Solomon do?
Mouth-frothing scourge of 'dissidents' and early Leung supporter Lau Nai-keung asks rhetorically how CY will be able to run Hong Kong when reconciliation with the tycoons' pro-Henry Tang faction is not realistic, whatever people say in public. (The amusing example he gives is that of the Liberal Party's Miriam Lau, who did not attend a harmonious dinner CY threw for Henry's supporters but instead ate pork chop at a Café de Coral and wrote about it on her Facebook page.)
NK Lau predicts that CY will appeal directly to the Hong Kong people for support, and this will enable him to bypass the Legislative Council. Constitutionally, of course, the executive branch relies on the legislature for funds and passage of bills. And CY does seem to be making very good friends indeed with the pro-Beijing DAB/FTU bloc – the Communist Party's local front, though it is probably not a sufficient source of political talent for the new administration, nor does it deliver broad public popularity. The pro-democrats are too suspicious or unimaginative to spy an opening, and the feeling is probably mutual.
NK Lau cannot say openly that a populist Leung will be able to push lawmakers and vested interests around thanks to the moral force provided by (still theoretical at this stage) overwhelming public support. As a loyal Communist, the China Daily columnist cannot acknowledge any role in governance – or any sovereign function – for the Hong Kong people. So he describes it thus:
Once lawmakers find out they have lost the monopoly on public opinion, they are powerless. They will find out very soon who is really in charge here. It is the central government and the appointed chief executive, and nobody else.
Some refer to populism as a 'rehearsal for fascism'; I prefer Margaret Thatcher's comment along the lines that 'consensus is an absence of leadership'. It is still hard to believe that the old do-nothing days are drawing to a close; it would be encouraging if CY told the private hospital lobby they can drop dead.