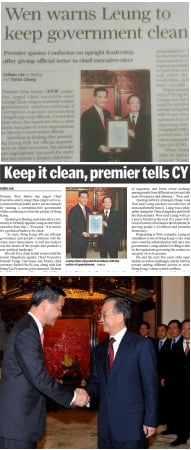 If it's humiliating for Hong Kong's next Chief Executive to be told by the Chinese Premier to run a clean administration, it's probably supposed to be. Not for CY Leung personally so much as for the outgoing government – and for the city as a whole.
The Big Lychee has never attracted the clichéd 'squeaky clean' tag that zombie foreign correspondents habitually use to describe the sovereign public-relations operation known as Singapore. We are allowed to admit this place isn't perfect. I once heard a complaint from a small-time supplier of playground equipment that he couldn't get orders from the Leisure and Cultural Services Department because a rival was offering kickbacks. Who doesn't assume that minor public-works projects in the New Territories are fixed by local politicians to benefit their buddies? But compared with the old days, when police and other corruption was rife, Hong Kong is reasonably close to spotless – legal infrastructure and land boondoggles notwithstanding.
More to the point, Hong Kong – along with the Lion City – is in a pristine league of its own compared with most of Asia. In Indonesia, the Philippines and elsewhere, many public-sector workers buy their positions, and pay their supervisors to retain them; the supervisors pay their bosses, and so on up the hierarchy. An official who does not divert contracts to his uncle is a fool, not to say a disgrace to the family. Corruption is a parallel tax and welfare system. And, of course, this goes for Mainland China too, despite Premier Wen Jiabao's incessant pleas to stamp out the problem.
Hong Kong's name has been sullied, with Time placing it in the same headline as the word 'graft'. Still, to put it in perspective, a Dow Jones round-up of global sleaze du jour tucks the recent Kwok brothers/Rafael Hui arrests down there among bribery in New Jersey and South Africa. The real damage is to the city's self-image. Outgoing Chief Executive Donald Tsang will now probably go down in the popular mind as the man who let the rot set in. The local boy who made good, who at least scrapped Saturday mornings in the office and introduced a minimum wage, ended up jetting and yachting with second-tier billionaire riffraff – and appointing a Chief Secretary apparently in bed with Sun Hung Kai Properties.
Such betrayal calls for vengeance. A scene we'd like to see: the day after his inauguration, a stern-faced CY oversees a ceremony at which Donald, Hui, the Kwoks and [fill in all your shoe–shining favourites] are lined up and ritually stripped of their Grand Bauhinia Medals, Gold Bauhinia Stars, Justice of the Peace badges, Jockey Club Stewards' ostrich-feather hats, Hong Kong Club bumper stickers, honourary doctorates from Kowloon-side universities and photos of them shaking hands with President Hu Jintao, while their weeping wives have their heads shaved over in the corner. A symbolic purification. As Wen – fresh from pulling the knife out of Bo Xilai – puts it: "people's relations will become more harmonious."