While Hong Kong waits to see which impossible/unthinkable/grotesque Chief Executive option Beijing goes for, the city enjoys a little diversion in the form of incumbent Donald Tsang's newly revealed habit of hitching rides from the region's high net-worth, if low-class, individuals. Touchingly, Donald laments how dwelling on this story is stopping us from focusing on the economy and the aging society – those riveting subjects we just can't wait to get back to. And, as if detailed plans of Henry Tang's basement haven't satisfied our architectural voyeurism for the month, we also get a peek at Sir Bow-Tie's luxury Shenzhen retirement pad.
It would be a great pity if we ended up remembering the police sergeant's son who rose to CE and attended Catholic mass every morning as a petit-bourgeois social climber who fell in with a bunch of toothpick-sucking, cognac-swigging nouveau-riche Mainland property shysters. It's not just the tawdry, peasant-evicting, asset-bubble-dependent business his new friends are in. It's not simply the tackiness of the transport (private jets are passé; Nina Wang's lothario Tony Chan had one, for heaven's sake). No, it's the destinations Sir Bow-Tie chooses. I mean – Phuket? Eww, please… Why not Dubai, while you're at it? Next it will be the Maldives, the favourite characterless non-place of the mindless moneyed.
As for Donald's apartment in Shenzhen, some people are going to be fascinated by the apparently cheap rental, while others will try stirring up trouble over the (allegedly) unauthorized bear-bile farm on the top floor. What intrigues me is the ginormous 'wardrobe', best considered in comparison with the size of the maids' bedrooms.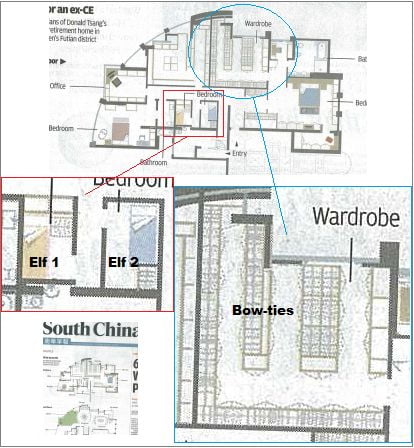 My rough guesstimate is that the elves each have about 9ft by 5ft, which is fine; they are no doubt small of frame and, with a 6,500sq ft home to clean, won't need even that. But the bow-tie collection gets around five times as much space. No wonder they couldn't squeeze a wine cellar or Japanese bath into the place.
Will Donald and Selena be bringing their Filipinos with them whenever they go to Shenzhen? We must hope so. It's such an authentic Hong Kong middle-class thing to do, and it would make up for the hideous travel-related lapses in judgment and taste. Phuket and Gulfstreams, indeed.
Meanwhile…