Along with all the mouth-frothing, open-mouthed disbelief, and plain mouthing-off, Hong Kong's 2012 Chief Executive 'election' has triggered a mood of joy – playfulness, even – reminiscent of July 2, 2003, the day after the big march, when the city's people realized they had toppled the tragic Tung Chee-hwa.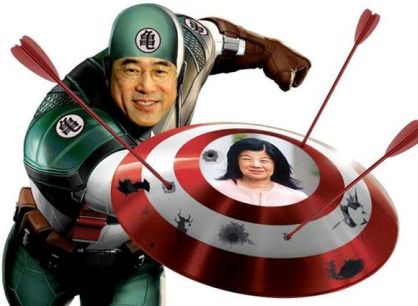 I can't help wondering: can we have a CE 'election' every year from now on? This has been great fun. The artwork alone has been a hoot, let alone the soap opera in Kowloon Tong, and the crab-like shuffling of our pompous establishment 'elite' trying to work out what they are supposed to do.
You can place bets on who will be picked here; as of this morning, CY Leung has a 40%-38% edge on Henry Tang, while 'A.N.Other' has gone from 15% to 20% in the last day.
After some confusion in recent days, the Big Lychee's great and good – property tycoons, former bureaucrats and so on – have mostly rallied round Henry. At Beijing's behest, it hardly needs to be said. The Standard's fictitious Mary Ma offers as good a summary of the plutocrat point of view as any. Note in particular the airy dismissal of Regina Ip as a possible contender. She is Beijing's emergency panic button – a safe/boring Donald Tsang-type administrator to keep Hong Kong securely and unthinkingly on its narrow post-1997 course to nowhere in particular. The one thinkable choice. It would an anti-climactic fizzling-out of a hilarious

episode, and we can only hope that the tycoons aren't deluding themselves too much in assuming that Beijing will push ahead and impose Henry on us, simply to demonstrate who's in charge. It will be fascinating. CY Leung would be the nuclear option – spectacular but scary.
Anthony Wu GBS, JP, Chairman/Director/Advisor/Member of Every Committee/Board/Council/Conference in Greater Hong Kong, says Henry has now learned his lesson. One of Wu's many hats is of course Chairman of the HK General Chamber of Commerce, whose suddenly-appointed CEO, Shirley Yuen, had previously been an assistant to Henry in the government (she strenuously denied the rumours, and quite rightly too – just share an elevator with Henry these days and the gossip starts). The point is that the Chamber – once a proud representative of free enterprise – has become a nest of public-sector, Friends-of-Donald types pushing their cronyist, statist, corporatist agenda. Day 2 of CY Leung's administration would start with a wrecking ball hitting the place, and trucks taking the whole executive committee off to the salt mines.
In a curious little side-show, Donald has raised eyebrows after attending a sleazy bash in Macau. There are three possible explanations:
He is planning a career as a casino junket operator after leaving office, arranging private jets, hookers and loan sharks for money-laundering high-stakes gamblers. 'I want a new challenge', sort of thing.
He is trying to divert attention from Henry's problems, can't manage anything better than this pitiful escapade, and the pro-democrats are dumb enough to fall for it.
He has no taste.
Bingo! Number 3 it is. The friend's luxury yacht is the giveaway. A certain type of mediocre politician inevitably ends up on a tacky friend's luxury yacht sooner or later. This one, or this one, for example. There's obviously a scientific explanation, but I've no idea what it is. Those who can (JFK, Berlusconi, Dominique Strauss-Kahn), do; those who can't, go on a yacht.