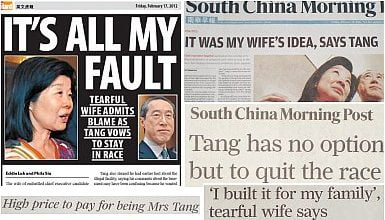 The last Hemlock Time Out epic, sticking its neck out on Hong Kong's next Chief Executive, suggested that Henry Tang would have to be unexpectedly mauled to death by a panda bear at Ocean Park not to get the job. It's still not quite at that stage, but Henry's presentation of his illegal basement woes as essentially his wife's fault is leading some of the weaker-stomached in our midst – like the South China Morning Post's leader-writer – to demand the man pull out from the pre-determined quasi-race.
So Hong Kong watches in fascination as a teary-eyed Lisa Kuo explains that she just wanted to help her family, while Henry hints that the marriage was under strain at the time – an allusion to the extramarital difficulties that required her to go through the same weepy-but-forgiving act on TV in October. Distraught, and betrayed by a philandering husband, we can surmise, she lost control of her senses and ordered a 2,000-square foot basement. One of the side-effects of the rigged nature of the 1,200-strong Election Committee designed to 'elect' Beijing's choice of CE is that it is (roughly, I would guess) 80% male. Which is probably just as well; ex-Security Secretary Regina Ip, for one, won't be voting for Henry. (An interesting question about the Big Lychee's large sisterhood of wronged tycoons' women: why do they put up with it all?)
Beijing must be slapping a few wrists to silence grumblers and phoning Kowloon Tong (ground floor extension) to say this is the last chance: next time we let An An and Jia Jia off the leash.
The new Hemlock Time Out epic, on our highly popular tycoons, was delayed for a couple of days while an alternative epic-free version of the issue hit the streets and then vanished again. Finally, the correct version is out. We will probably never know what was going on, though I did hear some whispering of the word 'pulp'. The ones in my local 7-Eleven had a Lady Gaga ad strategically pasted on the cover in such a way as to minimize distress to any passing octogenarian billionaires. If I were paranoid and liked to rant about self-censorship, I would wonder whether every copy has been given this fig-leaf treatment.
I discovered that the Lady Gaga ad is glued on right at the very edge, so you can easily flip it round and replace the magazine on the shelf, enabling the whole world to appreciate the message in its succinct and unambiguous entirety. Something to do on the way home this afternoon.
I'd love to take credit for this cover, but it's the work of the Time Out folk. Very clever design – note the underlining of the two words, which both breaks the headline up (making it easier to read), and accentuates the key elements of the subject: them and you. No sign, sadly, of the feature online.
Also worth a look are this witty and topical poetic tribute to Samuel T Coleridge and this stunning time-lapse film of Hong Kong in an even bigger hurry than usual (watch the container terminal starting at 2.48 – so that's what those things do). And with that, we can declare the weekend open.