China Daily reports that members of two Hong Kong political parties are complaining to the authorities about suspicious registrations of multiple voters at single residential addresses. Both individuals lost in recent District Council elections, and the insinuation is that opposing forces cheated. This story has been running for several days now; following complaints by pro-democrats, there have even been arrests. The twist here is that in the China Daily story the implicit victims of the apparent vote-rigging are from the two main pro-Beijing groups, the Federation of Trade Unions and the Democratic Alliance for the Blah Blah of HK.
A mean-spirited skeptic crazed by malevolence and mistrust might imagine that this is a slightly lame attempt, cobbled together in a bit of a panic, to give the impression that the vote-rigging is some neutral, across-the-board phenomenon and most definitely not – no way, not ever – orchestrated by pro-Beijing elements. The assumption that local Communist Party proxies have been organizing attempts to sway elections illegally is not helped by the government's initial reluctance to take pro-democrats' complaints seriously, and by circumstantial evidence, like the fact that one gaggle of falsely registered voters (who didn't vote) were all listed as living in a property owned by a member of a Guangdong city's People's Political Consultative Conference.
(An above-averagely mean spirited skeptic with a dash of verve and imagination might wonder whether this last case is actually an elaborate pro-democrat sting to make it look like dirty Commie rats are manipulating elections. After all, it wouldn't be too hard to find the address of an obscure pro-Beijing loyalist's property, and the whole point of this affair is that the government doesn't check – you can register under any address you want. Sadly, such monkey business is too much to hope for of the pro-democracy camp.)
It also, of course, doesn't help that lurking behind the scenes we have Chinese officials and United Front workers with a long tradition of subterfuge. It is easy to string together a list of factors that point to an increasingly aggressive, broad, centrally managed campaign against the pro-democrats – as a breathless Wall Street Journal article does. Is it any surprise that there are a lot of mean-spirited skeptics around?
To save us from sinking deeper into this swamp of conspiracy and paranoia comes Justice Barnabas Fung, voice of sanity and reason, and boss of the Electoral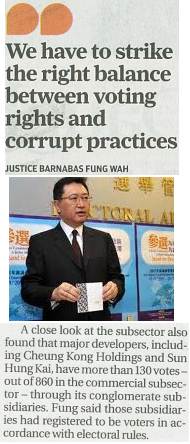 Affairs Commission. "We have to strike the right balance between voting rights and corrupt practices," he tells the South China Morning Post.
What a wondrous insight. Indeed, isn't this the truth about everything? We must strike the right balance between clean sidewalks and dog excrement, between affordable housing and developers' excessive profit margins, between feeding starving Somali children and letting them die, between good and evil. The list goes on and on. Voting rights and corrupt practices can co-exist in happy harmony if we get the proportions right.
Justice Fung is busy. Elsewhere in Electoral Affairs Land, he is trying to strike the right balance between barring foreign non-human bodies from taking part in electing the people who will pretend to elect the next CE, and having registered them. Queensland's local emissary – Sir Les Patterson, no less – voices shock at the idea that his trade office is listed on the electoral roll as living with 23 other people with different family names in a disused cinema. Or something.

Meanwhile, RTHK finds that Li Ka-shing's Cheung Kong Holdings (which presumably excludes Hutchison and much else) and the Kwok Brothers' Sun Hung Kai control 70 votes in various subsectors. The SCMP count 130 developers' votes out of 860 in one subsector before collapsing with fatigue. Screwing the cap back on his bottle of Prozac, Justice Fung assures us that such multiple votes are in accordance with the rules. Which indeed they are. So no problem! We have struck the right balance between letting half a dozen families in real estate run the city and letting a few hundred lesser mortals also have a say.
Breaking news: Justice Fung says it is "in principle alright" for overworked and easily confused voters to take a list of indistinguishable bores into the polling booth on Sunday as an aide-memoir provided you are discreet about it. I would guess mnemonics are probably OK too (though don't quote me).