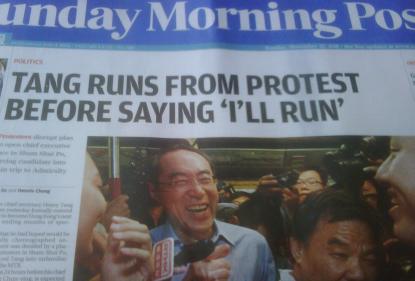 A fun-packed weekend on the Hong Kong political scene:
Former Chief Secretary Henry Tang officially

announced

his candidacy for Chief Executive in the shambolic manner of someone who has always had everything handed to him on a silver plate and expects it to continue.

Former Executive Council convenor CY Leung announced his candidacy

too

, but in a well-orchestrated, even slick, launch that reflected the extreme eagerness of a man with nothing to lose and everything to gain.
The last event was probably the most important. Dr the Hon David Li Kwok-po GBM, GBS, JP does not support people who are going to lose. If someone has power or is going to get it, he will be there.
The contrasts between the two campaign launches neatly sum up the respective candidates (happy but dim, accident-prone pig versus hungry, cunning wolf dragging bloody entrails by fangs).
Protestors ran Henry out of down-market Shamshuipo on an MTR train, leaving him to make his formal declaration safe on the other side of the harbour at the entrance to Admiralty station. The ineptness of this and other attempts to mingle with ordinary folk should be setting off some alarm bells among the Hong Kong bureaucrat-tycoon nexus and the Beijing officials who are banking on Henry as the perfect choice to continue Hong Kong's slow stagnation under the weight of land and other economic distortions.
CY gave a tear-jerking account of his humble upbringing, prompting extreme envy among spin doctors wishing that they had thought up the line about his mother having bound feet. He presented himself with wife and kid in a not-too-subtle dig at his opponent's marital infidelity. He avoided any hint of radicalism, notably of a redistributive sort, thus calming the nervous and essentially leaving Henry's dumbness as CY's main appeal to the masses. However, although he dragged together an impressive number of supporters (the effect was magnified by the presumably deliberate choice of a relatively small hall), the line-up was very much B-list: Urban Renewal Authority Barry Cheung, former Education Secretary Fanny Law and Neolithic-era Chief Secretary Sir David Akers-Jones being the most awe-inspiring. In some cultures, this would add to a helpful anti-hero/outsider/underdog image, but in Hong Kong celebrity and rank are important credentials.
The establishment's job is now to get Henry up in the public opinion polls vis-à-vis CY. It shouldn't be necessary in part of the Communist Party's undemocratic People's Republic of China, but weirdly it is; they need to at least get Henry's rating up alongside CY's.
Other than a lack of heavy-hitting endorsements, CY's main weakness is his rumoured Communist Party links and the grim authoritarianism they suggest. He denied it all at his campaign launch, and his website confronts the issue head-on ('People say CY is red'). You can see why they call this this administrative region of the PRC 'Special' when Richard Nixon's commie-baiting tactics against Helen Gahagan Douglas could be resurrected. Henry's strengths, if we can call them that, are undoubted laid-back niceness and humour. His people need to augment them with some serious poverty-fighting, school-improving, home-building policies. (If someone pressures lawmaker Regina Ip – who has a dash of popularity herself – into backing Tang, it would help give Henry a badly needed air of inevitability.)
The rumours about Henry's love child(ren) won't go away; indeed, they are getting luridly specific. For example: Henry has a 23-year-old son by a woman not wealthy enough to be acceptable as a wife (he would already have been married to Lisa for several years when that birth took place in 1988); he also has a younger daughter by another woman; and Next/Apple Daily publisher Jimmy Lai has photos of the son and is waiting for the right moment to unleash them. All pure, malicious gossip, of course, and anyone spreading such stuff should be hung up by the thumbs. Such revelations would probably boost Next magazine's circulation figures more than CY's approval ratings, provided Henry's team didn't get bogged down in a stupid attempt to cover it all up (more shades of Nixon, for heaven's sake).
It could be that Beijing is simply not going to publicly back a candidate. Strictly speaking, it hasn't done so in past CE quasi-elections, but the existence of a chosen one has always been clear. This time, Chinese officials may simply clam up and spread the word silently. The reaction of the loyalist Democratic Alliance for the Betterment of HK to one member's presence at CY's launch – swift denial that they support CY – tell us all we, and David Li, need to know. 
To my extreme shuddering pique, I have some work to do over the next couple of days, so service resumes Thursday, unless Jimmy Lai does something earth-shattering…