Fans of shamelessly odious hardcore shoe-shining need do no more every day than to open the Standard at page 23 and gorge themselves on the obsequiousness of Sing Tao Daily editor Siu Sai-wo's Fame and Fortune column. Today's example reads like a paid-for advertorial for a trendy restaurant, but it probably goes further than that.
The piece starts with a lavish review of an oh-so sophisticated and high-class meal of fish and chips and pork chop at The Pawn – the renovated historic building in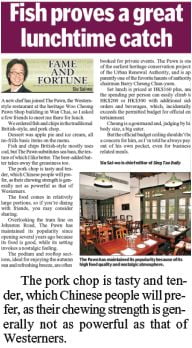 Wanchai. "The beer-added batter takes away the greasiness," Siu claims – a remarkable discovery if true, unless maybe he left the crispy stuff on the plate. The food, portions, prices and ambience all come in for lavish praise. (Yes, this is the same Pawn of which the magnificently brutal Raymonde Sacklyn wrote: "The duck dish was another loser of the first order of rubbish…"
Sacklyn complains of the meat's toughness, but Siu begs to differ, even stating: "The pork chop is tasty and tender, which Chinese people will prefer, as their chewing strength is generally not as powerful as that of Westerners."
At this point, I as a reader would greatly appreciate a brief discursion into the evolutionary origins of different ethnic groups' capacities to masticate. It couldn't be anything to do with having different staple grains in the diet, as agriculture developed only in the last 10,000 years or so, which is too recent for natural selection to produce variations of food-grinding abilities. And anyway, the northern Chinese eat hard 'durum' wheat like the Westerners, not soft, mushy rice.
Perhaps while we're at it, Siu might also like to ponder a few other questions. How come white women drink loads of coffee while pregnant yet still have very light-skinned babies? How come Westerners are so strong and resilient that they can get their hair wet without suffering instant, life-threatening ailments?
But it is not to be. We are getting to the stage where the purpose of the groveling column becomes clear. The Pawn is one of the Urban Renewal Authority's heritage 'conservation' (or 'pimping-out' at least) projects. Cue Barry Cheung, URA boss, who gets an implicit pat on the head for his general wondrousness, a special mention for being a 'gourmand' who appreciates The Pawn's gross foreign fare, and a further boost for paying even for business meals out of his own pocket – which in Sing Tao-world is presumably on a moral par with donating a kidney to a stranger.
What's up? Barry Cheung is a buddy of hopeful Chief Executive-candidate CY Leung. We can conclude that the word came down from the top of tycoon-owned Sing Tao group that they should hedge one or two bets, just in case the unthinkable happens.
Which brings us rather neatly to the South China Morning Post's report suggesting that members of the Beijing-directed Election Committee are starting to balk at the prospect of doing their rubber-stamp voting act next March for a Henry Tang who is lagging rival CY Leung so obviously (probably around 3 to 1) in the public opinion polls. Liberal Party bigwig James Tien suggests that ideally Henry would narrow the gap with CY to a relatively seemly 10 percentage points.
La Belle Broomhead, Regina Ip, is of course hoping that Beijing might share Election Committee members' fears of looking ridiculous and choose her as Plan B. But that would open old Article 23 wounds, and the Communist leadership have invested a lot of grooming-time in adulterous but reliable, plodding Henry. So there's nothing for it but to get those public approval ratings fixed. Proletarians and bourgeois alike can expect an array of warm and cuddly promises from Henry in due course, confirming Hong Kong's position as Asia's premier handout hub. It will also remind us of that old saying that the Big Lychee has all the disadvantages of democracy and none of the advantages of authoritarianism; we can't vote, but the politicians have to bribe us anyway.