I had a strange dream recently. I was listening to the radio, and the newsreader reported that Hong Kong had devised a new sort of aircraft seat. Thanks to materials 30-40% lighter than those used by manufacturers elsewhere, a new high-value aircraft components industry was to be born right here in the Big Lychee. Then a man came on to explain. Rather than being an inventor or entrepreneur, he sounded like a self-satisfied civil servant. The radio station guy started by asking for more details about the new type of seat, but the man insisted on delivering a prepared statement on the growth prospects of the airline industry. Then I woke up, had a shower and got on with real life, never giving the bizarre and illogical reverie a moment's thought.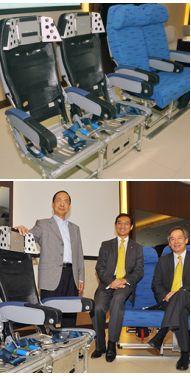 Except I now find I didn't dream it. The Standard quotes Hong Kong Productivity Council chairman Clement Chen as saying: "We started with the development of an aircraft cabin seat to help our industry take off."
The HKPC was founded in the 1960s to encourage the city's garment and plastics sweatshops to upgrade. The factories are history now, but the bureaucratic empire – like its cousin the HK Trade Development Council – carries on, seeking new roles to justify its existence. Like launching a local aircraft parts industry (though with the manufacturing to be based over the border).
The costs of developing this new space-age aircraft seat were borne by us – the humble Hong Kong taxpayer, via the government's (late 1990s) Innovation and Technology Fund, which supports all manner of scientific wondrousness and ingenuity. The know-how, the HKPC says, will be transferred to a consortium called Universal Aviation Industrial Ltd, which includes six local companies and apparently has a factory in Dongguan. I would like to think the taxpayer gets his money back in some way, but the press release neglects to say. Still, it's a snip at HK$253,000. (Would this be the same Dongguan that is going the way of Hong Kong's old industrial base thanks to the rising Yuan and labour costs? Why, yes it would be.)
What I find amazing is that dozens of profit-driven, technologically advanced aircraft components companies around the world had this carbon composite-plus-Dongguan formula staring them in the face, yet it took a redundant Hong Kong public-sector organization to spot it. Either these German and Japanese engineers are stupider than we think, or a Hong Kong bureaucrat is deluding himself and the miraculous new aircraft seat won't fly. (I can't say I'm encouraged by the HKPC's proud declaration that it is "Hong Kong's first passenger aircraft cabin seat in full compliance with international aviation safety standards." We made earlier ones that weren't?)
Government-funded technological R&D is an avowed policy of various politicians in Hong Kong, including lawmaker Regina Ip, despite the disappointing track records of Singaporean, French and other dirigiste leaderships who think they can use the public's money more productively than private investors will use their own. Thinking a state-owned Disneyland is normal doesn't help. I look forward to hearing on the radio one day that Hong Kong has become the world's leading aircraft seat hub – and wondering whether I dreamt it.
On the subject of private investors putting their own money to good use… At a lunch a few months ago, I met someone who runs his own family's investment fund – a big set-up with offices and full-time staff. He was complaining that he wanted to invest in long-term, sound business that generated good returns by providing useful and honest goods or services. They were going over countless proposals in fields like healthcare, services for retirees, educational toys, niche retailing and heaven knows what else. "And every single time," he said, "when we crunch the numbers, we could get much better returns in real estate."