What is the strange thing found on Google Maps out in the Gobi Desert? The stripes are exactly 20m across and seem to have been painted. Zoom out and go eight miles west of the grid and you'll find another. Between them, about six miles west, are three striped arrangements – apparently runways – at similar angles. Look closely near the middle one, and you'll see what looks like abandoned buildings laid out as a factory, prison or military facility might be.
The stripes seem to be painted or otherwise applied straight onto rock. They also seem quite old and worn away.
My hunch: Cold War-era 'fake' runways and settlements, designed to trick the US U-2 flights – or perhaps the Soviets – into thinking that this remote region of China was better defended and more populous than it really was.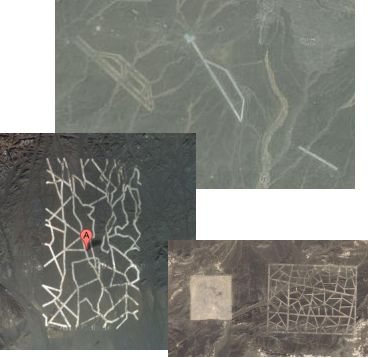 More here.