Captured on what we used to call film on a recent stroll…
Exhibit 1 on the left is sitting in the window at Milan Station, the publicly listed chain where women can half-buy-half-rent designer-label handbags. Aside from the mildly discomfiting colour – your monitor does not do it justice – the thing that jumps out is the price tag: HK$36,800.
For an average secretary, who I'm guessing is typical of the target market, that might be three months' salary. After getting off on carrying whatever famous brand it is around for half a year, she gets (pure guess) 50% of the cash back when she returns the valuable commodity to the store. Then she starts saving up again for her next one. It's sort of a pawn shop that offers bags instead of cash loans.
Government officials and fund managers seeking to justify the coercive nature and lousy returns of the Mandatory Provident Fund system could do worse than hold Milan Station customers up as examples of the idiotic things people will do with money if the state does not force them to save.
On the right is another bag, this time in dowdy old Sincere, which has been holding the same Special Sale since about 1988 or so. You would have thought that department stores in this day and age would attract only a few elderly ladies who can't handle shopping malls. In fact, they are crammed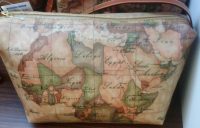 full of Mainlanders who, at a quick glance, can't afford the designer labels at shopping malls but want something 'from Hong Kong'.
The bag (HK$800 or so) caught my eye because of the apparently ancient map printed on it. But rather than use a genuine antique chart (or photo of one), the designer has taken a modern map and somehow made it look all Olde Worlde. Looking at the country names, we can date this map of Africa between 1984 (before which Burkina Faso was Upper Volta) and 1997 (after which Zaire became a variant of Congo). In terms of the history of Mainland shopping sprees in Hong Kong, that is of course ancient.
The dark, fuzzy pictures below are by me; the sharp, colourful one has been ripped off the relevant corporate website…
The place on the top used to be the IFC Mall branch of Pacific Coffee – an outlet much loved by the central business district's inhabitants, and invariably the only shop in the whole mall apart from McDonalds that ever seemed to be crowded with customers. Sun Hung Kai, like all good landlords, obviously noted this popularity and decided to kill the branch off with a rent hike and replace it with a business offering stuff people can't afford and/or don't want. The glossy picture above shows what will replace it: TWG Teas.
Their slogan 'Grands crus prestige' is finely calculated to trigger an impulse among the Mainland shopping elite – the ones who don't go to Sincere. They will recognize the words as French and really sophisticated, because at least two of them also appear in ads for wine. Little are the Huangs and Zhangs to realize that the idea of a grand old French tea label is a bit suspect.
TWG is of course a modern brand – The Wellness Group – based in Singapore, where it also has cosmetics outlets and spas (any similarity between the store designs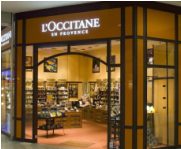 of TWG Teas and L'Occitane Olde Frenche Elbow Lotion Emporium round the corner in IFC is pure coincidence). Far from slapping '1837' on its logo to mislead guileless Mainlanders, the company "honours [the date] as the commencement of Singapore's domination as the Far East's most illustrious trading post, a haven for celebrated tea clippers loaded with the most precious of elixirs." In other words, it was the year the Lion City's Chamber of Commerce was founded; Stamford Raffles would be spinning in his grave.
Once the fancy packaging and extortionate rents are paid for, there is no way the Darjeeling Nouveau (honest) and Singapore Breakfast (ditto) can be decent-value brews. But of course, that's not the point. They will be bought by Mainlanders as gifts for other Mainlanders they probably don't like very much, and who don't realize that Westerners put milk and sugar with it, after which it still tastes vile compared with a good Oolong or Pu-ehr.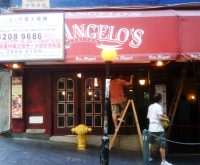 On the subject of landlords killing tenants, the Soho branch of Fat Angelo's is currently being transformed into something else courtesy of a 'prominent F&B group' mentioned on the real estate agent's sign. I was dragged in there once, and I can confirm that Fat Angelo's distinguished itself from other Soho restaurants in that it openly offered low-brow cuisine, while every other place in the neighbourhood pretends their identical-quality fare is something classy.
Also, they sometimes played Jefferson Airplane on the speakers at the door in the afternoon – something we can be fairly sure the pretentious and overpriced exclusive-fine-nouveau-fusion-contemporary-minimalist-concept-theme–sensation that replaces it will not do.