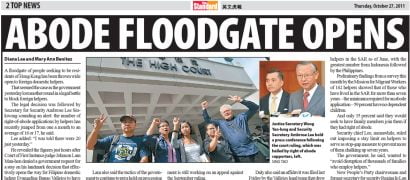 The All Pro-Beijing and Patriotic Media Formation Bed-Wetting Festival continues. The Standard warns that the Abode Floodgate Opens after applications for permanent residency from overseas maids leap from around one a month to a grand total of 17 (with official hearsay of 20 in one day). China Daily quotes a staff union boss as saying the Immigration Department could need an extra 300 to 400 officers (easy enough to recruit, surely, if you have 912,000 Filipinos suddenly joining the workforce).
The Beijing-controlled media have always engaged in orchestrated intimidation as a tool of suppressive government. In the early days of the PRC there were the Suppression of Reactionaries, the Three Anti's, the Five Anti's, the Elimination of Counter-revolutionaries and the Anti-Rightist campaigns, and that was before everything got really deranged in the 1960s. In this day and age, especially in nice, pluralistic Hong Kong, it comes across as a curious anachronism. On reading the daily spewing of venom about publisher Jimmy Lai and his American-controlled Gang of Four, notably Cardinal 'devil in his heart' Zen, you can only imagine that someone has his tongue in his cheek. An editor has ordered him to produce it, so the editor can pass it up to his boss in the Ministry, so his boss in the Ministry can cover his backside if some rival for a coveted post on the Politburo accuses him of being soft on US-backed Catholic subversives in Xianggang.
Which is why I can't keep myself from reading it. How often do you get to see the headline…
How clean is Anson Chan? Having stood in close proximity to the diminutive Dame, I can confirm that she is as fragrant as can be. But the Wen Wei Po editorial reproduced in China Daily begs to differ. "She accepted huge amounts of cash donations without informing the relevant authorities," it fumes (twice) amid an outpouring of 'exposed', 'abuse of power', 'favouritism', 'scandal', and 'bribery'. The benighted schmuck reporting the old girl to the Independent Commission Against Corruption is treated as a novelty item by most of the press. They know there is no law against gifting money, and no relevant authorities to report it to, and as an attempt to smear her and Lai it can only backfire. But the Wen Wei Po writer urges investigation because Chan "undoubtedly has ignited suspicion she might have taken bribes," in flagrant violation of the Suspicion (Alleged Ignition) Ordinance.  It would be glorious if the Beijing mouthpieces accused the ICAC of being part of the imperialist plot when it tosses the complaint aside, but such a 'contradiction' will sadly go unnoticed.