The Standard excitedly reveals that publisher Jimmy Lai, scourge of the Chinese Communist Party, has been making donations to Hong Kong's many and varied pro-democracy causes. Wasn't it already common knowledge that Lai helped fund the Democratic and Civic Parties? The fact that I can't remember indicates the momentousness of the news.
The other beneficiaries hardly come as a shock, either. Former Chief Secretary Anson Chan got HK$1.3 million, presumably so she doesn't have to dip into that Civil Service pension to fund her mild-mannered and sadly fruitless campaign for universal suffrage. The League of Social Democrats got a bit of banana money, as did the Frontier (it's still around?).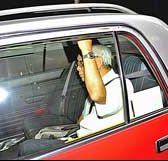 The South China Morning Post finds businessman-raconteur David Tang's name among the lucky recipients. Since the Shanghai Tang founder is surely in even less need of cash than Dame Conscience, this offers a clue as to what the money is for: a worthy charitable activity of the sort Tang promotes. We might tentatively venture to suggest that this also explains the rather immodest sums the devout Lai gave to Cardinal Joseph Zen (at least, judging from the pictures of him fleeing in a taxi, the outspoken priest didn't blow it on a Vatican-yellow Porsche).
No laws have been broken, but that doesn't stop the United Front swinging into action and engaging in a bout of dissident-bashing. Except the Front is not all that United. To the Standard and the other pro-establishment popular media, the button to push is the one marked 'Money-Wasting Legal and Other Stunts'. Lai's money, we are supposed to conclude, funded the ruinous 2010 Referendum/By-Election and the dastardly court cases intended to delay the Zhuhai Bridge and flood Hong Kong with millions of starving dark-skinned Filipino foreigners.
To the hardcore pro-communist media, however, this is a time for Cold War-era treachery and subterfuge. China Daily's cartoon will stir nostalgia among those of us who, back in those glorious days of Mutual Assured Destruction, would have occasion to flick through the Soviet satirical magazine Krokodil.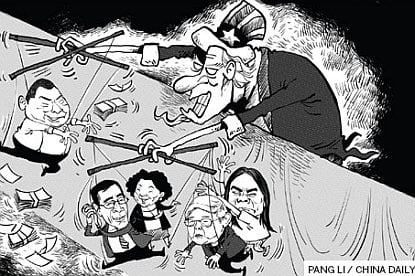 Corny, clumsy and, in graphic-illustrative terms, crap it may be – but this is the funniest and deepest cartoon China Daily has featured in all the weeks I have been getting it thrust into my face every morning. And yes, Uncle Sam-as-puppeteer is this guy's height of originality. The China Daily story, translated from the CCP's Wen Wei Po, of course refers to the US Consulate memos reporting what must have been very tedious meetings with various Hong Kong figures, also known as interference in internal affairs.
Has the Great 'DonationGate' Uproar Mouth-Frothing Mega-Scandal of 2011 been whipped up to harm the pro-democrats' chances in next month's District Elections? If so, someone in the pro-Beijing camp needs a bigger walnut to take his sledgehammer to. Or is it intended, as the SCMP quotes Lai's friends as suggesting, to divert attention away from Something Nasty happening in pro-establishment land? In which case, what was it – or are we still waiting for it to happen? If anyone thinks Cardinal Zen will keep fresh Henry Tang bimbo eruptions off the front pages, they're in for a serious disappointment.