The funeral went off without a hitch, with the sun shining and not even mad Aunt S turning up (a bit of a disappointment, to be honest).
The afternoon-long send-off for my mother at Whispering Glades offered an opportunity to learn (or, mostly, re-learn) details about the almost absurdly complex saga that was my father's marital life. He met my mother during World War 2; there was another couple in the neighbourhood, and it seems my father also had some sort of relationship with the other girl. We imagine this to be innocent teenage stuff, but who knows what was going on in remote Western regions in the early 1940s? There must have been some strong feelings because he agreed to marry my mother a few years later, even though she had become pregnant  in the meantime to a man who was divorced and therefore unacceptable as a husband in the eyes of  her strictly Catholic parents.
In a 10-year period starting a few years after I was born, my father left my mother for a woman called (using all made-up names here) Susan, who had had a baby girl called Jane by a man called Adam, who had abandoned her. Adam then married a woman called Mary who loathed my father – as he did her (they were all in the same esoteric profession).  Susan died at a young age, and my father adopted little Jane. My mother apparently also offered to adopt her and even have my father back (so the story goes; the assumption is that she owed him for the first time round). Instead, my father married one Wendy, but this lasted only a few years when it transpired she was a lesbian (she briefly absconded with young Jane). A couple of years later, Mary – who by now had separated from Adam – decided my father was quite admirable, and the two married. And people wonder why I never have.
Not only was I staying during the past 10 days in my mother's house alone, which felt strange enough, but I was not even supposed to be there; apparently only the executor – a lawyer who is not part of the family – should have keys or set foot inside. So I hid all evidence of my presence during daytime and tried to stay quiet, Anne Frank-style. My Filipino maid in Hong Kong emailed to say she had just seen my mother but wasn't frightened. I replied by telling her how much the floorboards, stairs and doors creak during the night.
Now back in Hong Kong, I am waking at four every morning.
Rummaging around, I found some interesting old photos taken exactly a century apart, first of my grandmother as a girl in 1898…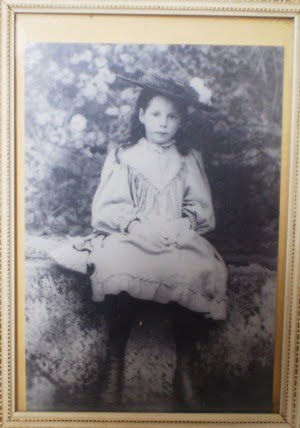 …the second of some deputy cousins pondering the Monica Lewinsky scandal in 1998…