Parts of Hong Kong's Central District adjoining the main route from the airport were turned into Barrier City yesterday afternoon in preparation for the arrival of Vice Premier Li Keqiang. The idea is to pen pedestrians away from parts of walkways from which they might see the entourage during its two 30-second transits (plus three minutes for wave after wave of dozens of police motorbikes). Or, to put it another way, the aim is to stop him from seeing us. The main fear is probably someone unfolding a Tibetan flag rather than lobbing a bomb. Even with all the roads blocked off, the Airport Express would be quicker.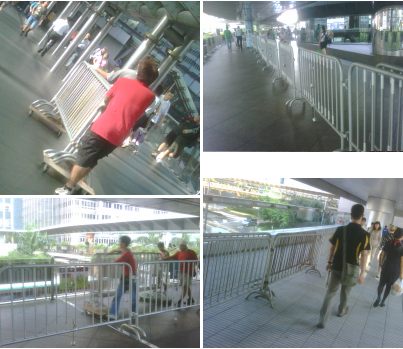 According to China Daily, Li is here to blather away about the 12th Five-Year Plan, Mainland-Hong Kong economic cooperation, partnership and all the rest of that twaddle. The Standard spells out this official line in earthier language, namely that Li has come to hand out economic sweeteners to show how much we need the loving motherland. He will also "visit grassroots people in their homes," assuming he can climb over all the barriers. Willy Lam's piece in the Wall Street Journal puts the visit in the context of Li's presumed appointment to the premiership next year.
As is always the case when a younger Communist leader succeeds the previous generation of dictators, Li is an English-speaking, liberally educated reformer who likes jazz and wears jeans and will open everything up.
Question: What is the difference (not counting gender, ethnicity, choice of hair dye or IQ) between Vice Premier Li and Republican presidential hopeful and dominionist freak Michele Bachmann?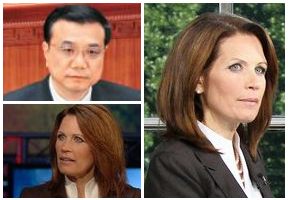 Answer: Li Keqiang doesn't seem to have been embalmed.