Mention of barrister and Civic Party member Gladys Li – Gladys Veronica Li, I should say – brings back memories of a brief moment of amusement during the 'election' for Hong Kong's first Chief Executive in late 1996.

It had been clear for some time that the Big Lychee's first post-colonial leader was going to be shipping heir Tung Chee-hwa, who had mysteriously appeared in Governor Chris Patten's Executive Council several years earlier. For some reason, though, the Chinese government decided that the mock election should have not just one, not just two, but several candidates for the 400 hand-picked voters to pretend to choose from. As well as Tung,  former Chief Justice TL Yiang, tycoon Peter Woo of Wheelock/Warf Holdings and senior judge Simon Li – Gladys's father – put themselves forward, as did several deranged or naïve no-hopers who walked in off the street.
Woo, with his sort of playboy-fascist image, presumably put himself forward to register an interest in getting the top job sometime in the future, an ambition he mercifully seems to have since dropped. The austere Yiang's decision to take part may have been similar, or maybe the Chinese government prodded him into it to discourage Woo from thinking he was the sole alternative. (Pure guesswork: if I ever heard why he did it, I've forgotten.)
Formerly 'Sir TL', Yiang (who made his first-ever MTR ride as part of his campaign) had made a rather sudden conversion from what was commonly called 'British Hong Kong' to 'Chinese'. He was joined in this by, among many others, Simon Li, part of the almost Anglo-Hong Kong Li dynasty of Bank of East Asia fame. At one point in the proceedings Li went on about how proud he was of his nationality. And then daughter Gladys, when asked by the media how she felt, delivered the gloriously off-message response: "I'm not Chinese, I'm British."
Li, who always had the feel of a joke candidate, failed to get the 50 nominations necessary to get on the ballot. Tung of course won a landslide, and Woo came a miserable third with less than 10% of the, no-doubt carefully rigged, vote.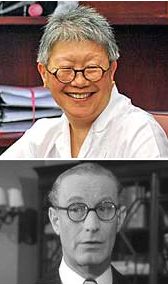 As well as the frightfully English 'Veronica', Gladys Li also sports those delightful big round spectacles straight out of a 1950s black-and-white British movie. She also penned an interesting guide to treason, no less. And, of course, in the bulldog-like manner of any good Brit eccentric with a cause, she now wrecks her party's electoral chances in November's district polls by choosing this moment to push the foreign maids' permanent residency issue. (She is the 'Lee Chi-hei' in the China Daily/Ming Pao editorial denying – cynics would say confirming – that the skewering of the Civic Party by its enemies was planned and coordinated by higher powers.)