Macau seems to have more sculpture shows than casinos, than egg tarts – than Hong Kong. The Making of Civilization is an exhibition of contemporary Mainland works in Macau's old vaguely fascistic art deco/neo-classical courthouse, next to the Metropole Hotel, across from the north end of Yaohan department store, at the top of Avenida de Praia Grande.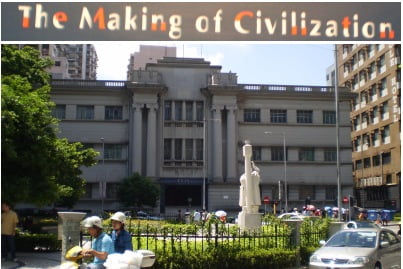 It's probably the sort of thing you wander into if you happen to be passing. You think it might be interesting to see the interior of the building, though little original detail remains apart from a staircase. But at least you get out of the sun and the heat. And you get away from the Mainland tourists, who do not come to Sin City to view art from their homeland. Apart from the cluster of Macau civil servants sitting redundant at the door and a Filipino security guard cautioning against using camera flashes, there are few people around – just a few of those curious, studious young locals who somehow manage to survive an education system geared up to producing croupiers.
The thing is that the phrase 'contemporary Chinese art' can set alarm bells ringing. I've just Googled the word 'Sinoploitation'. Well, it exists now. It's that cynical, technically proficient but absurdly corny portrayal of things that rich but shallow Western collectors think are authentic China: chests, silks, scrolls, lithe beauties in cheongsam, or red stars, green uniforms, Mao stuff and lithe beauties in People's Liberation Army fatigues. But it's not all like that; the big collectors now are increasingly from China itself, and they presumably don't want the artistic equivalent of General Tso's chicken and fortune cookies.
Around half a dozen sculptors are exhibited here for the next month or so. You are greeted by a huge red plastic male nude grinning at the bottom of the stairs.  Some of the works are amusing, like the little boy-men on pedestals. Others, like the life-size woman on her knees apparently in distress are slightly disturbing. The one apparent nod to Sinoploitation, Fat Brown Cadre on Western Sofa (I should have noted its real title), is actually quite funny and possibly a bit subversive…. 
Then it gets weird…