Another calm and relaxing morning in Perpetual Opulence Mansions. The building's breadwinners have glided down the hill on the wondrous, semi-high-speed transport infrastructure that is the Mid-Levels Escalator to their bustling offices in the central business district of Asia's leading international financial, cultural, arbitration and wine hub. Children have been dropped off at their summer French, piano, painting and fun differential-calculus activities classes. Frail grandparents, in the households that treasure traditional values of filial piety, are spoon-fed, washed, walked and otherwise amused by lowly paid Indonesian girls who steal samples of their wards' fingernail clippings for use in casting magic spells. For the next eight or nine hours, the whole block, like all the exclusive residences in these prosperous streets overlooking Hong Kong's Central District, is under the control of its Filipino maids.
Mindful of the extortionate bills levied by Mr Li Ka-shing's Hongkong Electric, I adjust the air conditioning in my little home office. As I sip my oolong and peruse the news on-line, the doorbell rings. I leap up to answer it and find a small, dusky lady clutching a booklet titled How to Share Christ Effectively. "They're busy," I tell the shocked face. "And yes – I am in! Didn't expect that did you?" She scuttles off and I pace through the sweltering living room of the apartment where the two Filipino elves are kneeling and carefully scrubbing the parquet with little toothbrushes.
"Just a Jehovah's Witness," I lie. "The security guard has taken him away to tear his tongue out with red hot tongs." They have done over half the floor in the last two hours and are glistening with sweat. Our socialistic, interventionist government, not content with taxing the neighbourhood's hard-working middle class half to death and driving businesses to the wall by imposing a minimum wage, has issued an impertinent decree ordering employers to Assess the risk of heat stroke to employees – tremble and obey. "Alright," I announce to the two figures at my feet, "you can have two minutes off to drink water."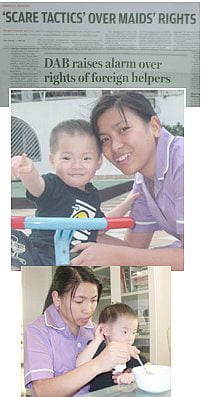 In the kitchen, I see a list. A very long list. 'Maria, Jesus, Trixie, Ritzy, Vilma, Aunt Maribeth, Uncle Bong-Bong, Aunt Marcelina, Cousin Sweety, Cousin Manny, Cousin Nilda…' It goes on and on.
"Are these by any chance the family members you plan to bring over here if domestic helpers get right of abode?" I ask the senior of my loyal and devoted pair of 'part-times'.
"Some of them," she replies.
The newspapers report that the Democratic Alliance for the Betterment of Hong Kong is warning of dire repercussions should a group of maids win a forthcoming court case in which they claim residency on the grounds that they have lived in Hong Kong for seven years. Millions of brown-skinned, loincloth-wearing savages would descend upon Hong Kong and roam the streets of Kowloon looking for furry animals to kill with their blowpipes. Food supplies would run out, and unemployment would rise to 50% while the government built dozens of vast new public housing estates. Or something like that. Our leaders might ask Beijing to declare the law to mean the opposite of what it says, or maybe it would resort to sinister-sounding stopgap measures, possibly involving cattle trucks and forced marches.
The DAB is a pro-communist party with a support base among the – non-maid-employing – grassroots in the fetid slums across the harbour.  Its voters are the sort of people whose relatives moved from the Mainland and had to wait seven years before qualifying for welfare; they don't much approve of foreigners at the best of times and particularly dislike dark ones, especially the uppity sort who are happier and better at English than they are.
Maybe they have a point: could we handle so many people grinning all the time?
"So where would they all live?" I ask.
"Lantau," comes the reply, "near where we catch squid at night."
The deputy elf chimes in: "There are free water buffalo there!"
Mention of beasts of burden leads me to glance at the clock. They have had 15 seconds more watering time than required by law.