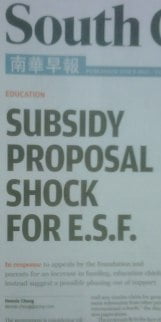 Is the Hong Kong government finally going to bite the bullet and rationalize the status of the English Schools Foundation? Yes, or at least a very firm maybe, according to the news reports, much to the concern of panic-prone parents of kids at ESF schools, not to mention the organisation's well-paid staff. But then again possibly not, according to a common-sense reading of what officials are up to: acknowledging a long-neglected problem safe in the knowledge that another administration will be in place long before anything at all needs to be done.
It is such a complex issue you can hardly blame them. The ESF is a colonial-era anomaly in that it receives public funding but delivers an education that does not conform to the requirements of official education policy. Although its original intended beneficiaries – expatriate civil servants – have mostly gone, large numbers of real or alleged English-speaking, tax-paying families are desperate to get their kids into ESF establishments, either to get a better (subsidized) deal than that offered by pricy private international schools, or to avoid the brain-crushing, fully local school system.
If our government (assuming it is all-wise and knows what is best for everyone) stuck to a straightforward coherent policy, it could solve this mismatch quite simply by telling all parents they have a choice: send your kids to public-sector Chinese schools, or pay up to send them to private establishments with their own language, curriculum and other policies. However, it can't take a principled stance because its own behavior, and that of its own personnel, is inconsistent and hypocritical.
Looking at the way things currently are, we could say that it is government policy to force kids from non-Chinese speaking homes to go to local schools and learn in the vernacular if they have brown skin (ie are Thai, Vietnamese, Nepalese, Pakistani or Filipino), but to make a concession to the whites and let them have an English-language choice. Of course, no-one puts it this way; it comes down to whether you have enough money to afford an alternative and enough socio-economic clout to make a nuisance of yourself (obviously, there are rich Southern Asians and there are poor whites). But it is worth remembering every time you hear a Western 'expatriate' family say they cannot possibly send their kid to a local school, that poorer 'ethnic minority' families are doing just that because they have no other option.
As for the hypocrisy, just take a look at where the middle-ranking and top government officials send their own kids: boarding school in Britain, or something else well out of reach of the official curriculum and language policies. Officials tell the population that they must send their children to rote-learning Chinese-language places to which they wouldn't dream of sending their own little princes and princesses, who after all are going to be doctors, lawyers or Big Five accountants.
This raises the distinct possibility that the government is in fact not all-wise nor knows what is best for everyone. The government implicitly accepts this at least a bit by funding private schools with more varied curricula under the direct subsidy system. In theory it would make sense just to put the ESF schools under that umbrella and provide identical per-student funding to all the subsidized schools across the board. Go one step further, and you could give all Hong Kong residents who are parents the subsidy as a voucher to spend as they wish, and invite all comers to set up whatever sort of schools they want – like the Free Schools idea Britain is borrowing from Sweden.
But that would mean anarchy. It would mean we don't need an Education Bureau full of officials who, when not phoning their offspring boarding in England, are devising compulsory education policies for the masses who are unfit to decide what their kids need. It would mean endorsing the English-language schooling we have tried so hard to phase out for kids who, not being born to civil servants, professionals or whites, are not up to it. It would mean humbling tyrannical school principals and throwback senior teachers whose idea of a politics class (I heard) is to get 10-year-olds to learn the names of all 29 members of the Executive Council off by heart. It would mean letting people choose. (And it would logically mean extending recurrent subsidies to cover private international schools; the unacceptability of this prospect is one of the main official hang-ups about the ESF.)
So obviously that's not going to happen. As for the ESF, it presumably anticipated the subsidy proposal some time ago and is now trying to channel the anger of its fractious parent body towards a government that really, really needs yet another segment of the population hating it. One day, an administration may adopt a principled position that either officially embraces or rejects a wider range of schools (or parents' wishes), but it's not going to be this one.