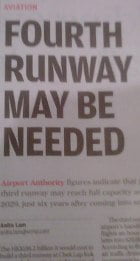 In an uncharacteristic display of admirably devious lateral thinking, the Hong Kong authorities divert public attention away from the proposed HK$136 billion third runway for the city's airport by starting to push for a fourth. Why didn't they think of this earlier? They could have pulled the rug out from under the environmentalists objecting to the bridge to Zhuhai by announcing, just days later, plans for adjacent bridges to Hainan and Hanoi. They could have confounded the knavish activist-detractors opposing the high-speed rail link to Shenzhen by simultaneously unveiling the Kwun Tong-Szechuan non-stop monorail.
After announcing their intention to throw some HK$150 billion (give or take) of our money down the toilet on the idiotic bridge and rail schemes, the infrastructure freaks' next big idea – a third runway – was bound to be greeted with sneers and protests. Much of the debate is over who should pay for it: should the taxpayer gift the thing to the airline, tourism and freight industries, or should we get some market discipline working by building it with private finance and auctioning off the slots? There is the emotional issue of dolphin welfare. Some commentators believe we can expand existing capacity through better use of large aircraft or Mainland airspace or airports.
The runway lobby meanwhile are mounting an absurdly lavish publicity campaign claiming that the impact of a new strip of reclamation and concrete on GDP will be equivalent to turning all 7 million Hongkongers into millionaires overnight. Conversely, failure to maintain our role as an Aviation Hub will result in unimaginable destitution, with children and cuddle puppy dogs starving on the streets. (Interesting aside: the most gleaming airports tend to be in loser cities like Dubai and Shanghai; meanwhile, the planet's two leading financial centres have, in JFK and Heathrow, overcrowded and stinking slums to fly in and out of. Close CLK and reopen Kai Tak?)
Putting all that aside, however, we can be pretty sure that – unlike the other two white elephants – people would actually use an extension to the airport. It might indeed make more economic or environmental sense for us to take a ferry to Shenzhen to catch a B737 to some rinky-dink place like Zunyi, or change planes in Tokyo to get to Washington DC, but most of us would pay a bit more for the convenience of direct flights.
If they had any integrity left, the planners would essentially say: "Yes a third runway is a bit of a wasteful boondoggle insofar as we could probably get by without it, but you'll appreciate it when it's there." Instead, after blowing credibility on pointless earlier mega-projects, they must resort to ever more extreme and desperate methods to convince the suckers who will have to pay for it. And threats. Start nodding and agreeing, or we reveal plans for Runway Number 5.