Article 23; the single-developer model for the West Kowloon cultural hub; the recent HK$6,000 top-up for every Mandatory Provident Fund account; not to mention numerous proposed tax and health reforms… To the lengthy list of Hong Kong government U-turns we can now add the bizarre plan to avoid by-elections for vacant democratically elected seats in the Legislative Council by appointing the runner-up in the last election to the empty seat. Instead, if and when our leaders get their story straight, it now seems the seat will go the runner-up from the same party.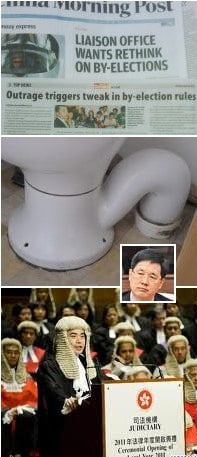 The original proposal would have produced flagrant violations of voters' wishes. We can be sure of this because Secretary for Constitutional Affairs Stephen Lam said the exact opposite just two days ago. This revised version of the plan is somewhat more logical – they will probably find some sort of precedent for it in Belgium or Tasmania or somewhere – even if just as objectionable in principle.
The government-friendly Standard charitably describes the shift as a 'tweak'. The South China Morning Post quotes anonymous sources as saying that Beijing's local representatives at the Liaison Office are behind it. This makes sense given that the original idea to ban legislators from resigning in order to trigger a quasi-referendum looked very like a hasty just-do-it command from them, hence the exceptionally dismal reasoning and excuses that accompanied the ill-thought-out plan. (On the face of it, such local electoral details have nothing to do with the cadres in Connaught Road West, but the Communist Party would view the possibility, or 'loophole' as our officials like to call it, as a theoretical threat to its supremacy; imagine an opposition lawmaker resigning and urging voters to re-elect him if they supported an end to one-party rule.)
So this time, our top officials deserve at least a shred of sympathy – to the extent that it is possible to muster any for a slimy bunch of lying zombie-weasels. Beijing's emissaries, it would appear, have told them to break some eggs, whisk vigorously in a bowl for three minutes, apply the goo liberally to their faces, then hop around with one foot in the mouth in full public view.
One factor behind the decision to backtrack was probably increasingly confident-sounding warnings from the Bar Association that the measure would deprive citizens of their constitutional right to vote and run for election, and thus end up with the government getting its rear-end kicked in the courts.  Not that the revised proposal looks hugely better in this respect, especially if the government decides to distinguish between 'mischievous' vacancies arising from a legislator deliberately resigning to make a point, and natural ones resulting from death, illness or imprisonment for fraud.  Assuming no-one else gets there first, radical lawmaker 'Long Hair' Leung Kwok-hung has vowed to resign if the new rules are implemented just so he can sue.
Aside 1… Millions of alert Hongkongers have spotted a vaguely familiar, youthful face cropping up on TV and in the press in recent days. Who is he? Didn't he have a bit-part in Infernal Affairs 3? Was he the one who presented that short-lived quiz show a few years back? Or is he the guy who was seen with a former Miss Hong Kong for a while, then faded from view? The answer is: he is Wong Yan-lung. He is Secretary for Justice.
Aside 2… People who could read about the staggering incompetence and ineptitude of the Hong Kong government all day long, stopping only for brief calls of nature, will be delighted to discover, as I did yesterday, that Next magazine's regular English-language column is archived, in clunky but readable pdf-type format, on this Facebook page.