Monday, 29 May 2006
My instructions are to find a Ms Chan at Peking Road, at 7am. How many Ms Chans will there be in a Tsimshatsui street? As it happens, she is easy to find, looking important in a bright blue travel agency uniform and holding a clipboard. Fat Karen and another of S-Meg Holdings' lower-ranking female staff are also there, along with their respective spouses. The Spring dinner prize was a trip for two, they ask. Why didn't I bring anyone with me?
"I have no friends," I reply, "and if I did, I wouldn't wish this on them, even assuming they would agree to come – which they wouldn't." As they digest this, we board a bus. It trundles through the morning traffic to call at exotic Shatin and mystical Fanling to pick up more victims. By the time we get to the border at Shataukok, there are, not counting the driver, a dozen of us – me, plus five, very average 30-something couples, and Ms Chan, who introduces herself as Yo-yo.
Once on Mainland territory, in a damp suburb of Shenzhen, we transfer to a minibus and are joined by our guide, Boris. We head east, and he assures us that our destination is safe. "People in Shantou and Chaozhou don't speak Cantonese," he admits, "but Chiuchow food is not strange. You can eat it with no problem."
After passing through rush-hour traffic, we set off along the Shen Shan Expressway. We pass by suburbs devoted not only to light industry, but offices and shopping centres – the modern buildings rising from the woodland remind me of the exurban landscape around Washington DC, around areas like Tyson's Corner, Herndon and Vienna. After 50 miles or so, we are surrounded by mountainous scrubland, much like the New Territories, except it goes on and on, like real wilderness. Just an hour away from the border.
I spy a business opportunity – lots of unused south-facing slopes begging to be subdivided into grave plots, with no-one's feng shui to wreck. Looking around the minibus, I see I am alone in finding the scenery interesting. Every other fellow tourist is asleep. A few have brought little blow-up pillows that wrap around their necks, like air travellers who take things too seriously.
Lunch is in a cavernous but deserted tourist restaurant in a coastal settlement called Houmen. Fellow-travellers murmur their approval at the gwailo's chopstick skills. I must have a very high IQ, they more or less venture to suggest. And who am I to disagree? Back on the bus, we zip past lychee orchards and duck and fish farms, while Boris tells us more about where we are going. "We are now in the Chiuchow area," he declares. "These people traditionally are involved in smuggling, piracy and illegal emigration." The road surface becomes rougher, and I wish I hadn't had so many fishballs. "When we arrive at the hotel, you will have a seven course dinner," Boris tells us. "After that, you are free. If you like, you can go to the night market and try typical Chiuchow beefballs."
Thanks to maintenance works, the Shen Shan Expressway – a four-lane freeway in theory – is reduced to one lane in each direction for most of the second half of the 400-kilometre journey. It's almost as bad as certain major roads in certain First World countries I can think of. At a Sinopec service station, I look around the little supermarket. Oil, car batteries, ice cream, cold drinks, big bottles of beer, jars of dried fruit peel and an impressive range of pornographic magazines and DVDs, gleefully defying their illegality in simplified characters.
Later on, we drop into a tea plantation and sample six different types of brew. Maybe I am mesmerized by the tea babes who hand out the little cups, but I am most taken with a variety called 'one leaf' and actually buy some. Initially tasting bitter, then becoming sweet to the palate, it seems to complement my personality. Or something.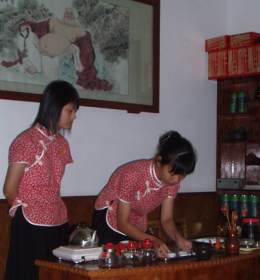 On the outskirts of Shantou (aka Swatow), we visit a temple at the top of a mountain. "Chiuchow people are the Jews of China," Boris informs us. "They make lots of money. So they like to renovate temples like this to give everyone the impression that they are honourable." This site dates from the Ming dynasty and has a huge boulder hollowed out to make a chapel. We then visit another temple, funded by overseas Chinese billionaires and opened by the Queen of Thailand. It is aimed at encouraging people to seek simple and contented lives. And then a third temple, with a hot spring that cures all sorts of ailments. Or it might, but Boris has other ideas. "Don't drink it," he warns.
Finally, we drive into Shantou city. "This is the peanut candy capital of the world," we are told, "and on your left is the TV tower, which is the worst one in China." Boris points out the new apartment blocks in a suburb on reclaimed land. "These flats are very nice and they only cost…" At this point, his mobile phone goes. We all wait in suspense while he finishes the call. "…You can buy them for HK$300,000," he concludes. Waaah!
"Most drug dealers are Chiuchow," Boris tells us as we get out of the bus to check in to the Meritus Hotel. "This place is partially closed owing to lack of business. The bathrooms are really big – you can get four people in a shower." Waaah!