As if the Hong Kong government hasn't enough misguided, unpopular and embarrassing horrors on its plate, here comes a plan to introduce something called Moral and National Education into schools. Worriers will see this as a plot to brainwash the kiddies with Communist propaganda, while leftist patriots will acclaim a long-overdue measure to correct the local community's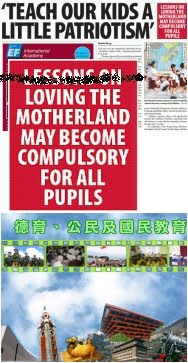 inbred alienation from the People's Republic of China. In reality, it looks more like 'Article 23 Lite': a largely symbolic exercise to appease local pro-Beijing elements and the central government itself. Indeed, it provides the administration, and anyone connected with it who may have ambitions for high office from mid-2012, with something patriotic to point to if anyone criticizes the lack of action on the security legislation required by the Basic Law.
National education has been the subject of extensive blather for some time. A recent example was a symposium from Hell in which colonial British-trained bureaucrat Education Secretary Michael Suen had to wax eloquent about "cultivating students' love for the motherland" in the presence of mainland officials and local United Front types.
Defenders of Hong Kong exceptionalism and autonomy will see this proposal as the thin end of the wedge, part of a far wider strategy to gradually 'Mainlandize' Hong Kong through high-profile sports events, visits from astronauts, the swamping of the city with Mandarin-speaking tourists, and scare stories about the lack of economic integration. They will note that this proposal cleverly bundles the promotion of national pride with the barely related but far more respectable topic of individual moral values.
The Pro-Beijing camp will probably be too happy that the government is singing its tune to find fault, but the grouchiest Communist loyalists could also find plenty to complain about. As the Standard points out, there will be no politically correct guidelines on what teachers should teach about modern China (damning indictments of one-party dictatorship would apparently be acceptable in class). The subject will not be tested, so parents will tell kids to ignore it. No extra teachers will be hired, so the subject is already detested by the oh-so-overworked saintly folk who will have to give the lessons. The proposal is all thin and no wedge.
One clue that this is mainly for the sake of appearances is that during a rummage around the consultation material for this proposal we find that, as of this morning, the content of this page does not provide English version. Non-Chinese speakers' kids probably do not attend the schools that will be affected, but it is usual for official public documentation on important matters to be bilingual. It is also noticeable that official flimflam aimed primarily at flattering or appeasing Beijing officials and their local fan club (typically waffle about cross-border cooperation) often appears in Chinese only.
In case anyone still thinks our leaders are taking this seriously, check out the photographic collage used to publicize civic and national education. Even by the standards of this modest art form – even by the standards of the Hong Kong government's employment of this modest art form – it is a truly nasty thing to behold…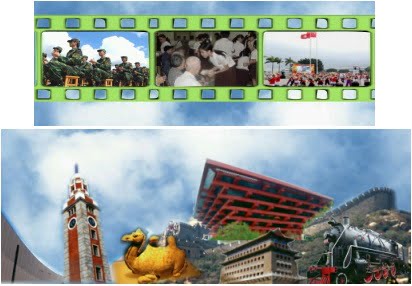 Finally, there is that little matter of how easy it really is to brainwash kids, especially through their school syllabus. Even the Catholics, who claim to have mastered the trick, have graduated millions of devout atheists from their establishments. However sweet and obedient the children may look as they sit attentively at their desks, what are they really going to think when someone armed with cartoon character-infested teaching materials tells them that today they will be learning what their national identity is?