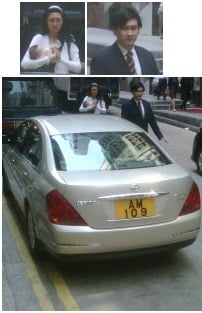 Some faintly noteworthy sights, before I delete them from my camera.
Right: seen outside Yung Kee goose restaurant in Wellington Street, Central at just after 2pm on Thursday, April 7 – government limo AM 109, stationary and sitting right on top of double yellow lines. As if throwing taxpayers' money away on pointless infrastructure projects isn't enough, our officials also clutter up our crowded streets by parking illegally.
So many officials have chauffeur-driven cars these days that we will probably never know who it was acting antisocially and putting themselves above the law that day. The two people in the background seemed to be no more than innocent bystanders. But that's just it. Are they not too innocent to be true? The guy is definitely guilty of something, and is anyone really going to be fooled by the woman's 'I'm-feeding-a-baby' routine? They have 'HK$134,000-a-month political assistants' written all over them.
Below: the scene just north of IFC Mall, viewed from the walkway to the ferries a week ago today. For years this patch of grass has just sat there, inaccessible to the public and never put to any use. Almost as if someone didn't want people to get used to it or form a sense of attachment. At first I thought the workmen were preparing for some sort of event: an open-air concert, a carnival with a Ferris wheel, or maybe a giant picnic for orphans sponsored by property tycoons. On closer examination, it seems they are getting ready to build something. It can only be the famous air-vent necessitated by the multi-billion-dollar, pollution factory known as the Central Bypass (artist's impression shows view from the building on the right). Enjoy one last look at the forbidden lawn.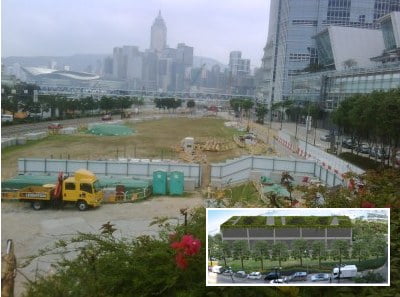 The light brown things at dead centre were steel girders.
Below: another monstrosity about to blight the neighbourhood – Lan Kwai Fong's Hard Rock Café, seen yesterday morning as workmen delivered various items of tacky décor, which must mean it will be opening soon. I have only ever been to one of these places, and that was next to the Portman Hotel in Shanghai in the mid-1990s, when it was an exotic pioneer in the opening up of China to tawdry Western lifestyle brands.
Could Pierce Lam be convinced to do battle against this intrusion of worthless and irrelevant English-speaking pop culture into our demographically 95% Chinese city? He might if he knew what sort of market the trashy restaurant chain is almost certainly here to target. There was a time when Americans, in particular, would travel thousands of miles to Asia only to make a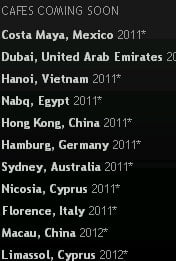 beeline for the identical menu they had left behind at home, and then make a small but real contribution to the continued and final vegetating of the Western mind by paying hefty prices for a Hard Rock T-shirt to prove they had done it. But the world has moved on. Today, Hard Rock Café is on a mission civilisatrice in places from Mexico to Egypt to Cyprus of which we have barely heard.
Clearly, mainland tourists in the Big Lychee are next to be weaned away from their thousand-year-old culture and its outstanding – and traditionally healthy – cuisine, and force-fed burgers, induced to gaze upon Madonna posters and brainwashed into needing T-shirts from the Hard Rock Cafés of Costa Maya and Nabq. Especially Nabq. Home of Egypt's finest onion rings.