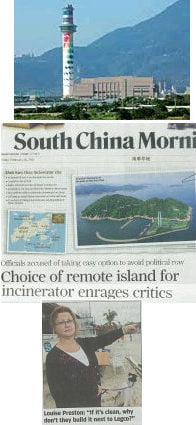 As the decennial inspection tour of the renegade province draws to a close, I learn that Taipei is blessed with something few cities in the world can boast: a waste incinerator with a revolving restaurant on top of the gaily coloured chimney. Browsing the Hong Kong newspapers on the flight back, it occurs to me that the democratic non-existent country could teach the Big Lychee a thing or two about choosing locations for unpopular but necessary public facilities.
The lead story in today's South China Morning Post tells of outrage and uproar over a plan to put an incinerator on Shek Kwu Chau, an island south of Lantau about which the overwhelming majority of us, if we are to be candid, know or care little. A glance at the government report on the subject confirms what the protestors are saying, namely that officials have chosen this desolate spot purely because it would cause less fuss than the alternatives.
Using an old and familiar – not to say rather tired – tactic, the document presents each other possible option along with some insurmountable problem that rules it out. Thus Ha Mei Wan off Lamma power station tragically has a dense cluster of finless porpoise sightings.  Tuen Mun would, unfortunately, cease to be fit for human (yea, even public housing tenants) habitation if we put an incinerator next to the existing power stations, steel mill and cement factory already gracing the neighbourhood. Something called the Tsung Tsui Ash Lagoons (any relation to the La Brea Tar Pits?) are sort-of-OK but still a bit close to the above-mentioned blights on the landscape (and we're saving it for Incinerator 2). The sinister-sounding Tseung Kwan O Area 137 has, sadly, already been earmarked for 'future PHI needs', and let's not tell relieved nearby residents that it means 'potentially hazardous installations'.
One of Lantau's most voluble wits is quoted in the SCMP as saying that if the incinerator is as clean as the bureaucrats say, "why don't they build it next to Legco?" As we can see, this was in fact considered…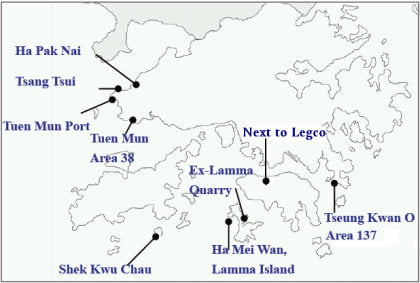 However, yet again, there is a distressing obstacle preventing what might appear to be a sensitive and logical choice: any extra hot air being generated around our Legislative Council would render life in Central and Western District unsustainable, or, in the worst-case scenario, damage the tourism industry.
So the obscure Shek Whatever island off Lantau it is. Residents of the last remaining truly green area of Hong Kong will just have to live with it. Maybe their dire warnings that the chimney could fall down and hit a water buffalo will turn out to be justified, and they'll be able to turn round and tell the rest of us "told you so." We'll just have to see.
If it were up to me, I would seize the opportunity for more of that all-important integration, partnership and cooperation with the Mainland, and put Hong Kong's incinerators, not to mention landfills, prisons, columbaria and drug rehab centres, within an hour's ferry ride away on the other side of the border. Even after becoming the world's leading source of plasticware, textiles and electronics, the Pearl River Delta is still 90% flat muddy wasteland where villagers will put up with almost anything for a reasonable sum.
And then we have Taiwan. The non-country has cleaned up impressively since, as it happens, it became democratic in the late 1980s. It has recycling, it has nuclear power stations, it has measures to reduce waste, it has growing fleets of electric vehicles, and it has incinerators. These plants are not popular, though by all accounts they are pretty high-tech and far less polluting than landfills. To help ease the way, local communities are given sweeteners for accepting the facilities, such as free admission to the heated swimming pool that gets built alongside.
This principle, appropriately vulgarized, would work in Hong Kong. Offer each household within half a mile a big enough one-off cash payment, and you would soon have neighbourhoods competing with each other to house the most noisome and feng-shui-damaging garbage or corpse treatment centres. It could pay for itself through lower construction costs than in remote areas like Shek Kwu Chau. Seal the deal with a little local referendum, and away you go. And you don't even need to bother with a revolving restaurant.