Stanley Ho's vast fortune will go, it seems, to whoever last had the chance to wipe the drool from the Macau casino king's ashen chin. The Standard today states as a fact that the 89-year-old billionaire has, for the second time in less than a week, reversed his own previous instructions to his lawyer. The fact that these complete turnarounds happen as soon as he is no longer in the presence of his legal counsel, and the families of his second and third wives have
the opportunity to gather round him, is left unsaid. Law firm Oldham, Li & Nie announces one version of the truth, public relations company Brunswick issues a contradictory one. When the billable hours have all been totted up, events should reveal one of these organizations to have been paid liars assisting an attempt to exploit someone too mentally frail to fend for himself.
We would expect greater clarity and truth over at the Hong Kong Security Bureau. The recent black travel warning for Egypt is no surprise. However, to continue giving the same damning ranking to the Philippines looks odd. The reason is simply that our officials are listing the averagely chaotic Southeast Asian republic as black purely out of spite, to 'punish' the administration in Manila for its incompetence and insolence following the deaths of Hong Kong tourists in last August's bus hijacking. The system gives terrorism-infested Pakistan a yellow alert, so – if the Big Lychee's bureaucracy is to be believed – we will be at no more risk taking our Chinese New Year long weekend holiday in Islamabad than in Boracay.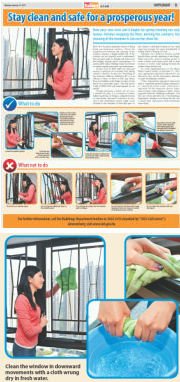 One lone voice of credibility in the wilderness appears on page nine in the Standard, where the Buildings Department has taken out a full-page advertisement advising citizens on how to clean windows. "Open the window gently," it urges, before wiping the glass using "downward movements with a cloth wrung dry in fresh water." If it were empowered to do so, the BD would issue a black alert on windows, perceiving fearsome threats to order and life itself where the rest of us see a framed view, albeit grimy, of hills, a street or an adjacent building. I feel confident in declaring the Buildings Department to be Hong Kong's biggest employer of female models who specialize in grimacing while pretending to apply effort to the opening of one of these much-maligned apertures. And it's all about… spring cleaning.