A fine morning for a stroll around the nether regions of the neighbourhood with friend and venerable food critic Yummy Chow, organizer of the annual Worst Restaurant in Soho Competition.
Oh, how we long for the days when at this dry time of year, every eight hours, round the clock, a truck with a big yellow oval-shaped tank would crawl along these narrow lanes, spraying water continuously and sweeping away the wrong sort of person. Then it all changed. They renamed the area Soho and hired Nepalese street cleaners armed with toothbrushes. It took a while for the herd to work out that heading South of Hollywood Road meant going up rather than down hill from the strip of art galleries and antiques stores. But once it sunk in and the tourist guidebooks started mentioning the place, it was indeed downhill all the way.
The largely indistinguishable plastic restaurants that now infest the zone attract hordes of unquestioning customers. On a Friday or Saturday night the district is awash with people who apparently like being jammed together on tiny tables, paying high prices for indifferent food in phony template surroundings run by cynical accountants trying to wring every penny in profit from the high-rent, low floor-area hovels before the landlord comes along and gives the tourniquet to the tenant's testicles another twist. The management would cut corners on ingredients even if they didn't have to do it to survive. Food is just what they happen to peddle; they could just as easily be hawking piles of equally fake DVDs.
Yummy takes me to a spot near the Mid-Levels Escalator on Elgin Street and points across the road to a recent renovation. She talks me through the process by which yet another soulless 'themed' venture comes into being. The story starts with the brazenly titled Dining Concepts group's closure of its cramped Ocean Grill outlet at number 49, which Time Out, hardly the most exacting setter of culinary benchmarks in the world, gave a dismal two stars out of five.
Day 1 Tear the plywood fake maritime furnishings out. It is important to leave the detritus lying on the sidewalk so passers-by are forced to walk in the road…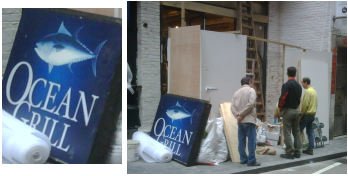 Day 2,3 (left) You surround the premises with a plasterboard wall (it is important to keep the sidewalk barred to passers-by) and install basic cookie-cutter plywood trimmings while discussing with investors what exciting new concept the new joint will have.  Day 4 (right) You finalize concept and wait for builders to come and install ambiance…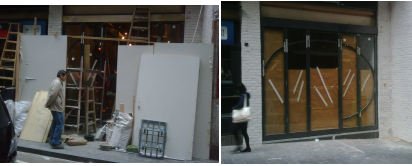 Day 5 Builders turn up with extruded plastic imitation artifacts of a bygone era/exotic location made in Shenzhen. It is important to position the truck in such a way that all vehicular and pedestrian traffic through the street is immobilized just next to the alley where the government lays rat poison…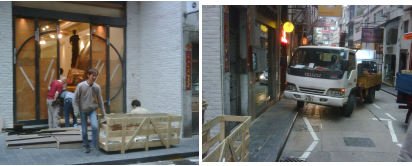 Day 6 Put up the new 'signage' to reveal the aforementioned exciting theme: the oh-so original French bistro…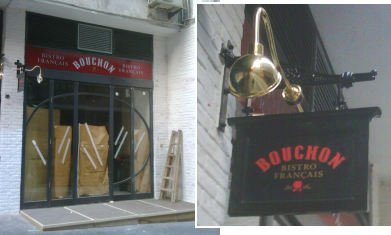 The next step is to put a page for the new profit centre saying 'Coming Soon' on your website with excruciatingly irritating music. You can also arrange a nice review for the eatery (yes we know it's not open yet) on the old Ocean Grill page on some obscure on-line restaurant guide.
Et voila! Welcome to Bouchon Bistrot Français (with emphasis on the first word):
"a dining adventure with the tastes of Paris … unique atmosphere … cosy [tables too small to open a Le Monde on] … great cuisine and wines in the true French style … Hors d'oeuvres, La Charcuterie, Salades, Soupes, Cocottes, Assiettes and Garnitures … 'Specialites Maison' daily."
At last! A French restaurant that serves up garnitures!
I turn to Yummy. "Hang on – there's already a place called Bouchon round here. Le Tire Bouchon. Quite well known, and if I recall, pretty good food. Owned and run by real humans."
Yummy nods grimly. "Yeah, founded in 1986 with a real French chef," she tells me. "Not what it was, perhaps, but it still had a good reputation."
Have the Dining Concepts management chosen the name in the hope of misleading people who have heard of its long-established semi-namesake just a minute's walk away in Graham Street? What a disgraceful and scurrilous thought. They will no doubt be horrified when they discover they have accidentally copied a revered competitor, and they'll have to call their new project something else, like Ye Olde Brasserie.
Yummy, after looking slightly glum for a moment, suddenly perks up. "Well that's it!" she announces with a triumphant grin. "This year's Worst Restaurant in Soho Competition winner! Already decided!"
"Are you sure?" I ask. "I mean, they haven't served a single meal yet. Shouldn't you actually try it first? I mean, at least have a big steaming plate of garnitures."
La gourmande sans merci spins round with her back to the still-unopened eatery, grips me by both shoulders and stares at me in mock shock. "My dear," she blurts out laughing, "do you seriously think I need to?"