At around 4pm yesterday Queens Road Central was the scene of a rare site: a marching band. (Inevitably, a quick glance at Google suggests that Hong Kong is in fact bursting with the things, but it's the first time I recall seeing one, give or take occasional police bagpipers.) They were well-drilled, didn't seem to hit any wrong notes in their unidentifiable repertoire and wore brightly coloured military-kitsch uniforms of the sort seen on musicians parading up and down the field before a US college football game.
Until I took a closer look…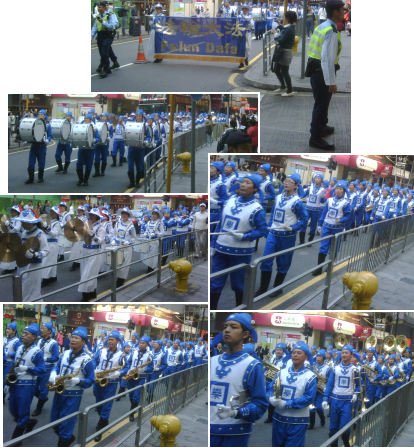 Yes, it was the Falun Gong massed percussion and brass sections. The men were wearing sort of martial-arts pajamas, while the women sported what I can best describe as Taiwanese-housewives-at-the-beach gear. Most of the marchers were around middle age. I got the feeling at first that many were not Hong Kong Chinese; they seemed to have that sort of paler, flatter-faced Northern look. But maybe I was being misled by their true countenance – that of spaced-out losers.
Like Scientology, fundamentalist Islam or evangelical Christianity, FLG seems to grasp its own particular sort of convert. I heard one story of someone's Beijing in-laws, 60-somethings of limited means, slightly bewildered by the modern world that had left them behind, whose physical and mental lives were massively transformed for the better by Falun Dafa, the 'wheel-law great law'. This is the stereotypical FLG practitioner, for whom the movement presumably fills a vacuum. (Now I remember where I saw that female drummer's serene smile before: the black-robed middle-aged women who swoop on visitors at a Taipei temple to hand out rice cakes to give thanks for answered prayers, usually concerning health.)
The 20-year-old FLG is not restricted to what might be called the aging and fading lower-middle class. Some prominent or wealthier Mainlanders in both private and public sectors joined it, and in the late 1990s the wacky, Qigong/Buddhist-derived faith took a zealous hold among a few of Hong Kong's lesser tycoon caste, who began proselytizing among their peers here. That fizzled out quickly when, after Chinese TV began denouncing the movement's medical quackery as dangerous and practitioners suddenly revealed themselves to be numerous and organized, Beijing launched a vicious clampdown on the 'evil sect'.
As orders to eliminate the organization filtered down to local levels, the retribution became deadly. This persecution won the movement the sympathy of the West's human rights activists, giving FLG something of the 'darling' status enjoyed by Tibet in The Guardian and the Wall Street Journal. FLG itself seems to spend at least as much of its extensive resources publicizing killings and the harvesting of body organs as it does spreading the word about Fa Rectification and the Falun Cosmic Orbit (even in Shqip, or Albanian). It has a newspaper and a TV channel, which once pulled off the rather nifty trick of hacking into a Mainland satellite feed. Some Chinese patriots believe the US funds it all.
Beijing struggles to counter the FLG overseas. At tourist spots in Hong Kong, Macau, Malaysia and elsewhere (Singapore is less tolerant) practitioners force gory anti-Communist literature on Mainlanders. China can claim the support of its establishment Buddhists, who obviously don't need rivals any more than the CCP does, but its violent and almost fanatical suppression of the FLG overrides the argument that the group is a nasty cult.
Does FLG have a sinister/charismatic/wealthy 'master' at the top? Yes (Li Hongzhi, in New York). Is it racist, homophobic and money-hungry? Yes, according to Wikipedia writers whose work is constantly removed by, presumably, loyal practitioners. And of course it sometimes discourages followers from getting normal medical care (as do many cults, apparently unconcerned about losing valuable adherents).
One reason for yesterday's gathering was to protest against the Hong Kong government's refusal to allow staff of the FLG's lavish Shen Yun performing arts troupe to work in the city. There are certain lines Beijing will not permit the Big Lychee to cross, and admitting overseas FLG people is one of them. All grist to the sect's persecution mill. This is what we're missing (not really worth it, though I like the narrator's rather fetching sinus problem). So all we have is the surprisingly good timing and curiously wistful cheer of their disconcertingly goblin-like band as they stride off into the Hong Kong sunset.