To paraphrase Oscar Wilde, to lose one chief executive of the West Kowloon Cultural Mega-theme Concept Hub Authority is unfortunate; to lose two confirms what many of us were saying five or more years ago, namely that this idiotic project was doomed to be an embarrassing disaster and embodiment of the mis-governance of Hong Kong.
A brief reminder of this mis-governance: In the mid-90s, Governor Chris Patten decided that the West Kowloon reclamation, a by-product of the airport express railway, would make a good and badly needed downtown park. Patten was a radical in that he was the first, and so far only, leader of the Big Lychee who imagined the purpose of his administration was to serve the interests of the general population. Subsequent leaders reverted to traditional priorities and decided to channel the wealth represented by the public space into the pockets of the usual beneficiaries – property tycoons – by dedicating the space to development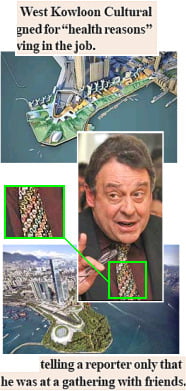 masquerading as tourism/entertainment/culture infrastructure. Public displeasure forced officials to cut the tycoons out of much of the action, but fear of losing face made them more determined than ever to force an unwanted arts/drama/music vanity white-elephant complex on us, like it or not.
This is one of those occasions where the fastidious, relatively factual and professional South China Morning Post is of no use to us. Indeed, if my semi-cursory glance at its pages just now was correct, today's edition does not even mention the departure of Graham Sheffield, the boss of the West Kowloon Cultural District Authority after less than five months on the job. It's just hearsay, and for that we need the Standard, for the rumour, tittle-tattle and innuendo that Sing Tao and other Chinese-language papers produce at times like this.
The former London arts manager has resigned, the rag says, for "health reasons", adding that his predecessor Angus Cheng did the same after a mere nine days for "personal reasons". Sleuth-like reporters tracked Sheffield down, only to get him to say he was at a gathering with friends (presumably, though we are not told, for "health reasons").
What does the government have to say? Among today's highly informative press releases from the Information Services Department, we learn that public support for the 2023 Asian Games is huge, OK? and cartoonist Billy Ma will provide childish daubs for this year's budget pamphlet. But nothing so far of the WKCDA's lost-boss woes.
Having become addicted to the British Hercule Poirot TV series, I can't stop suspecting that the brown shirt and That Tie have something to do with all this. Why should someone supposedly interested in aesthetics (the Standard dredges up gossip blaming Sheffield's US-located artist girlfriend
for his departure) lack such rudimentary sense of style? The wavy red and yellow pattern on the tan background reminds us of that catastrophe of colour combinations known as the 1970s. The only other human societies to resort to such design are those of ancient African and Australian aborigines, and they had a limited pallet of mud to choose from and blinding sunlight as an excuse. Did an imposter poison the real Graham Sheffield – the motive being the HK$3.5 million package – and then flee after his sartorial chromatic mismatches gradually gave the game away? Voila!
Those of us with the gift of detecting patterns would also, however, offer our officials some good news: the life expectancy of WKCDA bosses is increasing. At the current rate (each holder of the office lasting almost 17 times as long as his predecessor), the next one should be in place for around six years. As we can see from this rather elegant chart…

'Mr/Ms X Ao' is a pseudonym standing for 'ex-Administrative Officer'; a safe pair of hands, namely a former civil servant, will surely be the result of West Kowloon Kulture Czar recruitment exercise number three. Think of the architectural delights, the artistic flair and the scintillating atmosphere of Tsimshatsui's HK Cultural Centre and the adjacent Museum of Art – the glories of the Leisure and Cultural Services Department. Now imagine 50 acres of that.
There is another way out of this morass…
Hong Kong's first exciting Referendum
Tick one box
Yes please, I want billions more of my dollars to be spent on pretentious arts administrators, fat contracts for civil engineering companies, ugly museums and theatres with nothing in them, and numerous tacky facilities for the convenience of people who don't live here.
No thanks, just give us a big, cheap, basic park where local people can ride bikes, kick balls, practice the zither and have picnics on green grass – and deduct the balance off my next tax bill.
Voila!