Not even creating classics like She Said, She Said can make up for writing the wretchedly tedious song Imagine, so it is good to see John Lennon get his just deserts (notwithstanding being shot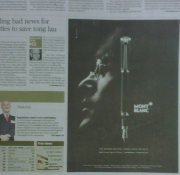 dead) by having a tacky Mont Blanc pen manufactured in his honour, advertised on the front page of today's South China Morning Post.  'To John, with love and peace' intones the copywriter. They wouldn't produce this stuff unless they were certain it would sell, which raises some intriguing questions. Who are the people who will buy this thing? What is going through their minds? The only answer I can think of is somebody who, out of some tragic social obligation, must buy a pricy gift for a person he intensely hates.
It is an interesting way to make money. (The company you should have bought shares in is Richemont, which also owns Cartier, Piaget and the ridiculously named Jaeger-LeCoultre, not to mention our (not) very own Shanghai Tang and the venerable Purdeys, whose shotguns today are presumably being churned out in a factory in Shenzhen.)
Anyone wanting a John Lennon Special Edition writing instrument can, of course, pick one up at the Mont Blanc outlet in IFC Mall. I was strolling around the huge shopping centre over the weekend doing research for my next book, which will be about the stupid brand names retailers adopt.
Moncler has too dull a moniker to get in, but I was fascinated by the window display showing menacing, sinister-looking figures in goggles and big puffy jackets. The store offers skiwear. You

wouldn't have though there is a market for down-filled nylon jackets in our little sub-tropical paradise, but apparently there is. For those who find Switzerland or Canada too distant, Korea has ski-slopes, and, inevitably, the weird fad of strapping planks to your feet and sliding down snowy hills is catching on in the Mainland – hence the presence of Moncler in the retailing bosom of the Big Lychee. The next time I see one of those poor victims, usually banking types in their 30s or 40s, hobbling along on crutches with a high-tech plastic cast on one ankle, I will remember to ask whether they were wearing Moncler at the time. This is what you get for your trouble if you find golfing too warm and flat.
ETRO might make it into the book. I can imagine the marketing brainstorming team sitting round a table and scribbling names out on pads. Metro? Too common. Hetro? Sounds a bit creepy. Getro? Sounds like a chain of Polish gas stations. Wetro? Ewww. I've got it! Let's just drop the first letter and go for Etro! Human imagination knows no bounds. I didn't pause to notice what it sells, but some subliminal sense tells me it might have something to do with pale, neutral-toned, coarse-fabric clothing.
Next along was Qeelin. Maybe the pronunciation draws on that of Qwghlm, the country off the northwestern coast of Britain in Neal Stephenson's Cryptonomicon and Baroque Cycle ('taggum' – except it's not really like 'taggum' at all when pronounced by native speakers). Maybe it's a typo and the marketing gurus didn't spot it. Maybe they'd run out of all other alternative names for stores, and had no choice but to, with great reluctance, put this lexicographical reject above the door. Maybe it's Japanese. Again, the nature of their wares failed to register.
Then, in a relatively dark corner of the sprawling marble palace I saw a sign announcing 'A new concept Starbucks' coming in December. IFC Mall is, of course, mainly known for its branch of (native Hong Kong brand) Pacific Coffee, frequented by the beautiful people of the central business district. But, for the riffraff, it also has three Starbucks: one next to the downtown airport check-in, one on the main level sort of overlooking the harbour, and a third a few steps away in Exchange Square 3. I may have missed one or two more.
Starbucks has become almost unavoidable in many cities in recent years, crowding out other shops on every street the way real estate agencies do in Hong Kong – like an unkillable weed choking every other plant in a garden. The public reacted by preferring independent, hip, quirky, one-off coffee shops. Starbucks hit back by opening places that looked like independent, hip, quirky, one-off coffee shops but were in fact just another part of the sprawling Seattle-based corporate empire, with some 'high level of interaction and a deep connection to the local community' stirred into the brew. And tea.
That would be a bit subtle for Hong Kong, so this new place will be a conventionally branded Starbucks, but with a 'new concept' of some sort. No doubt it will be exciting, though then again if that were the case they would have mentioned it. They always do. So the concept, while new, will be rather dull. Maybe it will sell beer, but only nasty tasteless stuff like Budweiser and Corona. Or maybe it will be green and energy efficient and have a small carbon footprint – always a guaranteed yawn-inducer. There is no limit to the number of ways consumer goods and services can be both novel and uninteresting.
Perhaps they will guarantee not to play anything by The Carpenters, but have Lennon's turgid Imagine instead. Millions of IFC denizens can't wait to see how they will do it.