At the land auction yesterday, the Hong Kong government raised HK$1.63 billion it has no use for so Chinachem property group can build HK$22,000 per-square-foot apartments for sale to gullible Mainlanders with funny-smelling money. (This assumes this racket is still going on by the time the project is completed. The scam whereby such buyers get a free Hong Kong ID Card thrown in might be scrapped by then, interest rate hikes might have pulled the plug on the bubble, Beijing might have clamped down on money laundering, an asteroid could vaporize Kowloon Tong, and so on. Chinachem is one of those second-ranking, me-too developers that jump on bandwagons too late.) The government even made a nice TV news-style video on it.
Highlight of the auction, though not mentioned in the Information Services Department's output, was 'Long Hair' Leung Kwok-hung, who crashed the proceedings to demand affordable homes for the downtrodden masses. Which bring us rather neatly to this…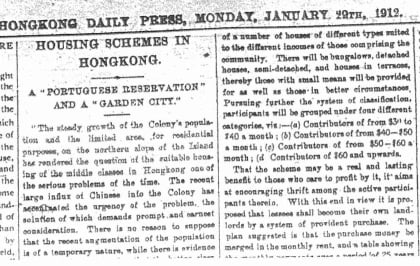 "The steady growth of the Colony's population and the limited area for residential purposes on the northern slope of the Island has rendered the question of the suitable housing of the middle classes in Hong Kong one of the serious problems of the time. The recent large influx of Chinese into the Colony has accelerated the urgency of the problem, the solution of which demands prompt and earnest consideration."

Hong Kong Daily Press, January 29, 1912
Fast-forward 98 years, and this still hasn't been fixed. On top of that, we also now have a serious poverty problem set to undermine social stability, a health-threatening air pollution problem caused largely by a crippling traffic problem, plus lots, lots more – the solution of which demands prompt and earnest consideration. (The Edwardians were lousy at thinking up snappy slogans like 'I'll get the job done'.)
The good news: Chief Executive Donald Tsang's annual Policy Address is today.
Your thoughts and wishes are welcome at Sir Bow-Tie's very own Facebook account – here, for example. (And yes, ISD has a story on that too.)
UPDATE (11.25am): Sir Bow-Tie announces temporary exclusion of property from eligible asset classes under the ID cards-for-investments scam. Chinachem screwed already, depending on how temporary 'temporary' is.