Which city is the 10th best in the world for a vacation? Here's a clue: it's so pristine that it rates a magnificent 88.89 for cleanliness, which as we all know is about as near as you can get to godliness itself. The answer is Hong Kong, according to readers of British lifestyle magazine Conde Nast Traveller.
Some may snigger at the idea of the Big Lychee as pristine. Birds of prey swoop down onto bits of McDonald's hamburger buns floating in the fragrant harbour. The aroma of raw pig meat permeates the street markets. Prime tourist attraction Lan Kwai Fong hosts a constant procession of rancid garbage trucks and has a bombed-out road surface that would be considered a disgrace in Manila.
From my own experience as a tour guide, British visitors do spend much of their time wandering around this city raving in amazement about "how clean everything is." Maybe they were expecting even more trash in the sea, even more pork odour, and even more carrion and peelings being transported through the famous bar district. But what seems to strike them most is the shining, sparkling appearance of much of the public space within and around buildings.
I lead them through the shopping centres, office lobbies and connecting overhead walkways, and watch them stare in wonder at the absence of dust or specks, let alone grime or disrepair. I sit them in a mall coffee shop near the window and wait for the inevitable kid to drop his ice-cream on the gleaming marble floor; then I enjoy my guests' admiration and amazement as the emergency response team of estate managers, security staff and cleaners descend on the scene with safety barriers, warning signs and mops,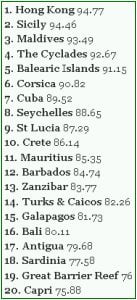 barking orders into walkie-talkies and expertly maintaining crowd control until the crisis is over.
But to hell with being the 10th best city. The same survey puts Shanghai – a dull mélange of tacky skyscrapers and vanity projects with a scattering of art deco – in 15th place, presumably giving it 87.63 for fried dumplings. No, Conde Nast Traveller also names Hong Kong as the absolute best top number-one island on the planet. In other words, the finest piece of sub-continental territory surrounded by water anywhere.
Is the survey trustworthy? Manhattan doesn't rate as one of the top 20 islands, though New York comes second in the list of best cities, which seems a bit odd. But can we seriously doubt the integrity of any system that gives percentage scores for friendliness accurate to two decimal points? And let's not forget that the magazine fails to rate Singapore as either a city or an island – which surely confirms the reliability of the methodology.
Indeed, it is easy to see why Hong Kong is superior to the other 19 islands. Whoever heard of the Zanzibar or Crete stock exchanges? The Sardinia or Galapagos mass transit systems? Where can you get 20 different styles of Hello Kitty lip gloss in Cuba? They don't even have gold toilets in Cuba. How many minutes away is the nearest 7-Eleven when you're on the Great Barrier Reef? Do they make movies like Devil Fetus in the Maldives? Do they have the world's highest number of luxury Mercedes cars per mile of road in Antigua? These other so-called islands never stood a chance.