Foreign passport holders may comprise no more than 20% of Hong Kong's Legislative Council members.  This provision appears in the Basic Law, which was written at a time when much of the city's middle class were scrambling over one another in an attempt to get overseas residency. In barring people with foreign right of abode from the Legislative Council, the article was asserting China's sovereignty. In then stipulating that they could in fact have up to a fifth of the seats, the Basic Law got pragmatic and recognized that many existing and potential lawmakers would not qualify for Chinese citizenship because of the country's refusal to recognize dual nationality. Many voices in those pre-handover times, when the handover was viewed with trepidation, thought that 20% was too low. As it happened, exactly a fifth of directly elected legislators in the 1995 Legco were foreign passport holders. The riveting statistical analysis suggested that voters that year did not discriminate between those with or without overseas residency rights.
The idea was not to reserve seats for non-Chinese in view of their magnificent contribution to our World City, etc, etc, so much as to accommodate a number of ethnic Chinese with foreign passports and a handful of non-Chinese who would have been barred from Chinese citizenship even if they wanted it on grounds of ethnicity.
Since then, things have changed. Fear of life under Communist rule has faded. The Hong Kong passports offered to the city's Chinese citizens, have become widely accepted for travel purposes. More public figures have ditched foreign citizenship in order to serve on the Executive Council or national bodies. Public tolerance of local office holders with foreign passports has declined, as five (of eight) undersecretaries found out in 2008 when they were appointed and pressured into sacrificing their British, Canadian and American documents. South Asian and white Hongkongers have been granted Chinese citizenship. The 20% clause can be seen as an anomaly; Hong Kong officials discussing constitutional reform imply that they view it that way, which means Beijing does too.
The problem of how to limit one class of people to no more than a fifth of seats was solved by naming 12 of the functional constituencies as open to foreign citizens. They are some but not all of the professional and commercial franchises: legal, but not medical; finance, but not agriculture and fisheries. As functional constituencies go, they are probably more likely than average to elect someone holding a foreign passport. The SCMP today shows just four of these members have right of abode overseas – 6.6%. Only Chinese citizens may run for the other 48 seats, including all the directly elected ones.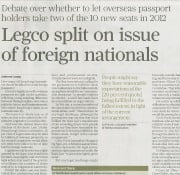 The 2012 election, with Legco expanded from 60 to 70 seats, provides an opportunity to reduce the 20% level in practice by not creating two more 'foreign passport-friendly' seats. This seems likely to happen. This is not a party issue; Legco's current foreign passport holders come from both pro-Beijing and pro-democracy camps. Voters have increasingly little time for privileged elites in public life. Nationalists (in keeping with the spirit of the Basic Law) see passports as a test of patriotism. Only a few legal and other eccentrics are likely to call for the 20% level to be maintained as some sort of constitutional right to be cherished. It would take a brave debater to argue that Hong Kong (5% non-ethnic Chinese) might benefit from a bit of ethnic diversity in its legislature.
One argument in favour of fans of the full 20% is that opponents of foreigners in Legco are wrong to say – as they sometimes do – that nowhere else in the world allows any non-citizens into its legislature. Indians, Australians, South Africans and other Commonwealth passport holders are constitutionally welcome in the UK Parliament. But this is hardly a convincing precedent for the Big Lychee in 2010.