In his occasional English column, Chris Yeung mentions: the Chinese translation of Alice Poon's Land and the Ruling Class in Hong Kong; the "alleged malpractices" of Henderson Land and other developers; the property and related retail and utilities cartels; tycoon Simon Lo Lin-shin's attempt to build a luxury compound at a Sai Wan beauty spot; the Great Octopus Card Personal Data Sale Massacre; and the Chinese Manufacturers Association's lobbying of Beijing for the maintenance of functional constituencies.
This is a list that could go on and on, from minimum wage, to Lehman minibonds to supermarket rip-offs. The Hong Kong business community is facing a new surge in skepticism and hostility from what a decade or so ago was a far more acquiescent, even admiring, public. Rising political awareness has much to do with it, but even in boardrooms there is now unease over the unbridled greed being exhibited by certain quarters of the plutocracy. Bauhinia Foundation/General Chamber boss Anthony Wu, one of Chief Executive Donald Tsang's most remorseless cheerleaders, hinted at some frustration when he recently suggested that all this anti-business sentiment is, at heart, anti-developer.
Yeung says "the business sector is waking up to the winds of change," and points to a recent interest in charitableness and social responsibility (or at least public image) among companies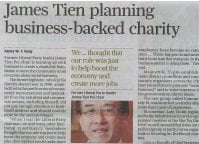 and business groups, notably developers. He cites the best example of the futility of this approach: tycoon-politician James Tien's plans for a Victorian-sounding business fund for the deprived elderly and young. This idea is not so much cynical as – inevitably from Tien – simple-minded and slimy. After cheating and overcharging consumers, the cartels will now hand a little rebate back in the form of a donation to the poor, and that will stop us from coming and stringing them up from lamp-posts someday. It's as desperate as the boss of New World buying a has-been newspaper 'to protect the rights of developers'.
As Yeung essentially concludes, the tycoons simply don't get it so long as they are unable to "embrace society's emerging core values such as environmental protection (the Sai Wan case) and fair and equal voting rights (functional constituency election)."
Why don't some members of the business community – the majority who are as much victims of price-gouging property tycoons as everyone else – identify themselves with the rest of the population/economy? Why don't some local or overseas-born entrepreneurs, investors and managers stand up and say: "Hong Kong's businesses and middle class are forced to buy over-priced accommodation, goods and services from the property tycoons. The cartels get rich, the rest of us are all the poorer. How does this help Hong Kong?"
Eventually, some business figures – notably with political ambitions – will come forward and speak out along these lines (as Chief Executive hopeful CY Leung more or less has). But they still have a lot to be nervous about.
First, would Beijing approve? Since the 1980s, the Communist Party has worked on the misapprehension that Hong Kong's wealthiest families create the city's wealth. Clearer signals that Beijing is questioning this assumption would encourage pro-establishment people to say what they really think of the property sector. Until then, the shoeshining instinct, united front and peer pressure will keep them silent.
Second, what would the property giants do to them? Even if they lacked clout in Beijing, the big tycoons have assumed commanding positions as suppliers and buyers of goods and services in much of Hong Kong's domestic economy. In theory, they could make life difficult for a small or medium-sized business in many sectors. They have also accumulated multiple votes in many (probably nearly all) of the small-circle functional constituencies where many politically ambitious businessmen get their first taste of public affairs. Not least, they have acquired an entitlement mentality as powerful as that of public housing tenants or civil servants: these rigged markets are theirs by right. You'd be better off kicking a mama bear's cubs. It is no secret that they intimidate (typically via an intermediary).
Still, if public opinion continues to mount against the corporate world in general, business figures who want to be loved will have no choice but to distance themselves from the true scoundrels and common enemy. Unlike the split among the pan-democrats, such a division could represent major shifts in the local political and economic scenes. Needless to say, the big tycoons have a massive interest in making sure it doesn't happen.
On the subject of Anthony Wu…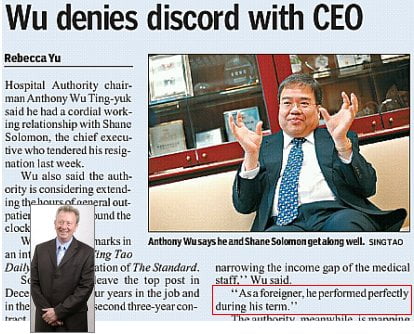 In today's Standard, the Bauhinia Foundation/General Chamber boss laments the departure of Shane Solomon, chief executive of the Hospital Authority, of which Wu finds time to be Chairman. He says:
"As a foreigner, he performed perfectly during his term."
Which the barbarian (an Australian) will no doubt rush to put in his resume. The quote comes from an interview with Sing Tao, a Chinese-language milieu, in which superfluous allusions to ethnicity are perhaps not considered gauche.
What else could Wu say about Solomon? How about…
"As a foreigner, he wasn't at all fat-looking."