Upstanding Administrative Officer Winky Ip strides majestically into the Foreign Correspondents Club and dumps a large stack of files and papers on the chair next to me before perching herself opposite and sliding her Salvatore Ferragamo Convertible Bag seductively off her shoulder and onto the seat alongside. "Phew!" she announces. "I'm up to my ears at the moment – look at all that."
I pick up a sheet of paper and a file marked Top Secret. "No!" she hisses, "you mustn't look at that!" And she snatches the air-conditioning expenses claim form from my left hand, leaving me with no choice but to peruse the sheaf of highly confidential pages on the Proposed FIA World GT Championship Motor Sport Facility: Location Options. To my delight, it includes a map…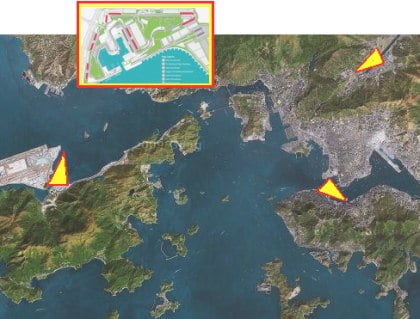 "The inset is the Yas Marina circuit," Winky says. "In Abu Dhabi. It's triangular in shape, with the longest side being about two-and-a-half kilometres. We need one like it in Hong Kong, otherwise we'll lose out to Singapore. And Abu Dhabi. And Shanghai – they've got car-racing too."
"Loser cities," I tell her. "New York and London don't need racing cars and all those creepy foreign-accented drivers and self-important bores in space suits waving cars in and out of pit stops."
The fragrant bureaucrat ignores me. "The yellow patches on the map are the possible locations. The first is next to the airport, as suggested by that letter-writer in the South China Morning Post last Friday."  I snigger – then get a finger wagging in my face. "He's a member of Hong Kong Mensa and Mensa Australia! Think how clever he must be to be a member of two Mensas! You, on the other hand…" she picks up a battered folded newspaper "…have only managed five answers from Saturday's Financial Times crossword."
"So why are there two other places marked?" I ask.
"Pink dolphins, of course," Winky mutters. "So that leaves two other options. One, as you can see, is reclamation just between Tsimshatsui and Central."
I stare at her in disbelief. "It totally blocks the harbour!"
"Yes, yes, yes, it's obviously not acceptable," she assures me. "It would cause serious inconvenience to our logistics industry.  So that leaves option three, up here – Shatin."
I look at the map. "Um… it covers half of Shatin," I point out.
Winky takes a deep breath. "Yes, I know. This might be a bit controversial. In order to move forward we need to create a consensus to, er, resettle about half the residents. In Shenzhen." She astutely detects a smidgeon of doubt on my face. "Well, there's no choice – there's lots of space in Shenzhen."
"Yes," I agree, "so why not put the race track there?"
Winky looks at me in horror. "What do you mean? This is an important part of our tourism infrastructure for Hong Kong. It will diversify our tourism products, enhance our attractiveness to tourists from different market segments, including the high-end market." She starts droning on about how many billions in economic benefits it will produce over 40 years and how many jobs it would create.
"OK,OK," I tell her. "You're right. I mean – what the hell, it's only Shatin."
Chicken and mushroom congee arrives, and I change the subject.
"Your colleagues made a serious omission in the top honours announced on July first," I say. "There was no token Indian."
Winky nods. "Well, there was Ronald Arculli – he got a Grand Bauhinia Medal."
"Yes but no-one really thinks of him as Indian. They just think of him as a…"
"Yes, yes, yes, we all know," Winky interrupts. "The problem is that there were so many major awardees this year we just couldn't justify any more. But we're going to make up for it next year."
She leans over and pulls a file from the pile next to me. 'Central Personality Index – Brown People' it says on the cover.
"Right," she says, flicking through the pages. "So, for example, prominent businessman Jaya Prakash Jaypee – well known for his outstanding and dedicated service to the community – will be made a Justice of the Peace."
I think about it. It seems fair enough. "So JP Jaypee will be come JP Jaypee JP."
"Exactly," Winky says.
Excellent!