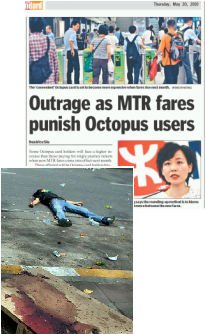 As Bangkok has its Tiananmen-lite and Red Shirts torch the stock exchange and city halls, Hong Kong reels in horror at The Great MTR Octopus Card-Holders Massacre of 2010.
The mass transit system is putting its fares up by an average of 2.05%. This in itself would be enough to provoke squeals of terror among that part of the community that falls between malnourished riders of busses, for whom the train is unaffordable luxury, and the modestly prosperous lower middle class who stoically come to terms with price rises measured in cents without complaining. However, it gets worse: on certain journeys, the price increase will be higher on a stored-value Octopus Card than on an old-fashioned single ticket.
For technical reasons, the high-tech cashless system can work in any sum, while the old single tickets only accommodate increments of 50 cents (perhaps because the vending machines don't accept smaller coins – who knows or cares?). Note something very important: the MTR is giving users of the old plastic tickets a discount – letting them off a 20- or 30-cent price hike to avoid rounding up by 50 cents. The Octopus Card holders are simply paying the correct new fare.
Few things make some of us more livid than the sight of a fellow human being enjoying some sort of bonus that we did not get – even though it is not in any way at our expense. It is a mean-spirited, irrational and childish emotion, but the resentment at the perceived injustice burns as fiercely as CentralWorld shopping mall on Ratchadamri Road. The Singaporeans are familiar with the feeling as Kiasu, from the Hokkien for 'afraid to lose'. The classic example is the woman who feels immensely pleased with herself for bullying her Indonesian maid into accepting a HK$2,000 monthly wage, then goes berserk with fury on finding that Mrs Chan in the next block is paying only HK$1,800.
The difference here is that Octopus Card users considering slashing their wrists, throwing their kids out of the window or burning charcoal in their little sealed bedroom at this grotesque unfairness have another option: buy a single ticket and save that precious 20 cents (per day – it adds up). Watch them in the thousands waiting in line for hours at the machines when the fare rise takes effect on 13 June.
Meanwhile, the Hong Kong public remains riveted by the government's hip propaganda urging everyone to support, as best they can, the exciting 2012 political reform package…