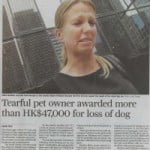 The Small Claims Tribunal orders Relopet, the international dog relocation specialists, to give HK$47,000 to one Claire Buckley.
The story goes back to early April, when the lady's canine Jay bolted from the cargo area at Hong Kong airport rather than board a flight for London. "Jay escaped," said the company's boss, "because Claire asked us to put his favourite toy in the cage. On her instructions we opened the cage and Jay was a very big, very strong dog and he forced his way past two of my employees."
"After two very emotional and financially difficult weeks for all involved JAY has still not been found," those of us eagerly following the story subsequently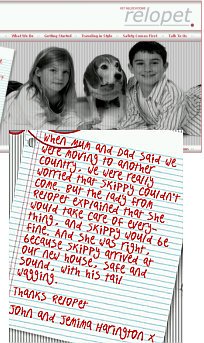 learned. Then, about two weeks ago, came the grievous denouement, the discovery of a corpse in a ditch. (Do not scroll down and read the comments. Do not.) So off to the Tribunal Ms Buckley went.
The award comprised: $28,530 refund (the creature was flying Business Class); $13,486 for costs incurred during the search (not bad since she and volunteers were looking all day every day for weeks); and $5,000 compensation for stress and inconvenience.
The latter relatively trivial amount suggests that the mini-court considered the dog's life to have no value and saw the case simply as a consumer protection one. However, Ms Buckley is quoted in Tuesday's SCMP as saying that "Jay was like my child."
A very big, very strong child that forced its way past two adult people in its determination to flee. Will she and the disturbed expatriate women's canine-worship cult at Hong Kong Dog Rescue (the Schindler's Ark for mutts that originally kept Jay from the Agriculture and Fisheries Department's Treblinka) somehow one day reconcile this contradiction? It's not "like a child". It's not part of a human family. It's an animal. They bite. They run.
Probably not (yes I scrolled down)…