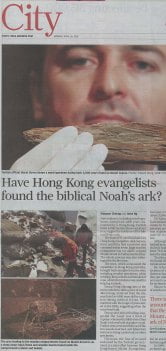 The South China Morning Post reports that Christian fundamentalist group Hong Kong Media Evangelism has discovered what may well be an authentic remnant of Noah's Ark on eastern Turkey's Mount Ararat.
This is in fact the second time the organization has accomplished this feat. The first was in October 2004, when the biblical literalists returned from an expedition up the snow-capped peak with a petrified part of the boat's wooden structure. I personally witnessed this alleged fossil just a few weeks ago. It is kept under respectfully subdued lighting in a secure glass case at the famous Noah's Ark at Ma Wan Island and looks remarkably like a lump of rock.
This time round, the intrepid believers have procured real pieces of relatively recent-looking tree, which they say has been carbon dated as 4,800 years old; this, it goes without saying, matches the date of the flood implied in the Book of Genesis.
However, the dangerously splintery-looking bit of cypress (apparently) is just a hint of what they have found. The team, the SCMP informs us, "said they had excavated and ventured inside seven large wooden compartments." Accompanying photos show the fundamentalist amateur archaeologists peering into a small black crevice among snow-strewn rocks, and what appears to be the interior of a wooden structure. One shot reveals a bench with some sort of wooden vessel on it – like you would use to feed an animal from – and (nice touch) some straw. They say they have some rope, as used to tether beasts.

The discovery of ancient man-made wooden chambers of any sort around 12,000 feet above sea level on an old, uninhabitable volcano in Asia Minor would be remarkable. It doesn't have to be a boat; just finding an old hut, barn, granary, prehistoric skiing lodge, or whatever would be a big deal for antiquaries the world over. Amazingly, however, the most exhaustive search on Google and Google News fails to uncover any coverage of this exciting breakthrough. The SCMP have a huge scoop here, and they put it in their City section with all the celebrity drug busts and school kids' suicides!
Unless… Unless Hong Kong Media Evangelism took the photos in an old Anatolian farm shed or something. In other words, are lying. That doesn't sound like something devout Christians would do, does it? But then we consider how God has smiled on Thomas Kwok, the Noah's Ark fan and Sun Hung Kai Property tycoon, who has made billions of dollars by telling people that 500-square-foot-flats are in fact 640 square feet. Reject science and embrace creationism, and the Almighty will dump cash on you. It remains to be seen how HK Media Evangelism will capitalize on their latest relic of the ark. I look forward to the next one.
Meanwhile, I am delighted to announce that I have the following items for sale to the highest bidders:
pieces of the true cross, each complete with rusty nail and nasty discoloration;
thorns from the famous crown (slightly dulled over time);
the newly discovered Discarded Shroud, which Christ's followers tried briefly to wrap his body in before finding it was too small – complete with even more stubborn, hard-to-remove stains than the famous Turin version;
and some glass phials of Mary Magdalene's blood (available in 25 and 50ml sizes).
Reserve prices are modest enough to be within reach of SCMP reporters.